Overseas Visitors' Spend In Ireland Up 9% to €4.7 billion
Published on Jan 2 2017 5:55 PM in General Industry tagged: Featured Post / Ireland / tourism / tourists / Irish Tourist Industry Confederation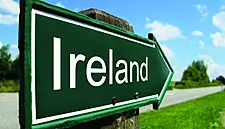 Irish tourism hit new highs in 2016 with a record number of international visitors coming here and the industry worth over €8 billion annually, according to the Irish Tourist Industry Confederation's (ITIC) end of year report.
The ITIC reported that overseas tourists spent €4.7 billion in Ireland in 2016, representing  a 9% increase, or almost €600 million more compared to what was spent the previous year. Irish air and sea carriers earned a further €1.5 billion from tourists.
According to the report, domestic tourism demand also picked up generating an estimated €1.75 billion, with a further €300 million earned from visitors from Northern Ireland.
The CSO reported that the number of overseas visitors grew by 10% to 8.8 million - the highest number on record - with all four top source markets recording significant growth. There was an increase of 10% in holiday visitors, while business visitors and those coming to visit friends and relatives (VFR) were up 12%.
"It has been a remarkable year for Irish tourism with record visitor numbers in both volume and value terms. 20,000 new jobs have been created in the sector in the last year and tourism is now Ireland's largest indigenous employer," said Paul Gallagher, ITIC chairman.
ITIC Chief Executive Eoghan O'Mara Walsh added: "Irish tourism has performed extremely well in 2016, which is testament to the quality and competitiveness of our tourism product and industry. A number of external factors have also been in Ireland's favour, including increased air access and a weak euro. It is vital that we chart a path for sustainable growth and avoid a return to the peaks and troughs of previous times".