Passenger Charges at Dublin Airport to Undergo Review
Published on Apr 29 2015 12:14 PM in General Industry tagged: airlines / tourism / Paschal Donohoe / Dublin Airport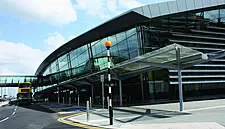 Minister for Transport Paschal Donohoe has initiated what he described will be a "comprehensive review" of the regulation of passenger charges at Dublin Airport.
According to the Irish Independent, the Department of Transport has hired the consultancy firm Indecon to review the current system, which has been in place since 2001.
The move comes just days after Fáilte Ireland chairman Michael Cawley urged Irish airports to be more competitive with their charges, to capitilise on tourism growth, calling some current charges "hopelessly uncompetitive".
Currently, the charges are regulated by the Commission for Aviation Regulation (CAR), which sets the maximum charges, according to factors such as projected traffic levels and estimated capital expenditure by the DAA.
CAR has been held back in its ability to fully regulate the charges, as it often has to deal with directions from the ministerial department about its charges.
For instance, last year it was ordered by the Department to reduce its planned reduction of maximum charges from 4.8 per cent to 4.2 per cent a year. Directions such as this have caused controversy with airlines and stakeholders.
Donohoe said that the time for a review was appropriate, considering the controversies along with the advancements in the aviation business and international regulations since 2001. The review will be finished by the end of this year, and changes will be implemented by mid-2016.