Rise of Ryanair, Norwegian Eclipses Europe's Old Airline Order
Published on Jan 5 2017 12:37 PM in General Industry tagged: Ryanair / Deutsche Lufthansa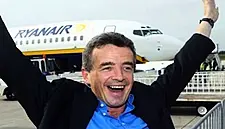 Aggressive growth strategies at Europe's leading discount carriers are poised to overthrown the region's established airline order.
Ryanair Holdings Plc, already Europe's top low-cost operator, boosted its passenger tally 15 percent to 117 million in 2016, a figure that's set to give it the biggest annual tally of any carrier in the region, ahead of Deutsche Lufthansa AG, which reports numbers next week.
Norwegian Air Shuttle ASA attracted 29.3 million passengers last year, it said Thursday, a 14 percent increase that's likely to put it ahead of SAS AB's Scandinavian Airlines for the first time. SAS also posts figures next week.
And Wizz Air Holdings, the No. 1 no-frills carrier in Eastern Europe, grew numbers 19 percent to 23 million as it added more destinations in the west of the continent.
Discount specialists are piling on passengers using bargain-basement pricing even as a sluggish European economy and the threat of terror attacks acts as a brake on demand. With fares sliding, Lufthansa, Air France-KLM Group and British Airways owner IAG SA have responded by establishing discount units of their own, though they've generally struggled to compete with the likes of Ryanair and EasyJet Plc amid opposition to cost cuts from their own staff.
Under Pressure
Lufthansa, which attracted 108 million passengers in 2015, the most in Europe, is under particular pressure as Ryanair sharpens its focus on Germany. The group, also including Austrian Airlines and Swiss, probably finished 2016 with about 110 million customers, based on reported figures through November and projections for December, about 7 million behind its Irish rival.
The race between SAS and Norwegian, whose maverick strategy includes low-cost long-haul services, was probably closer. Still, the tri-national carrier, which had a lead of 1.4 million passengers in 2015, would have to have attracted 3 million in December alone to stave off the discount operator's challenge, or two-thirds more than the monthly tally a year earlier.
Norwegian has also swept past Air Berlin Plc, which operates a similar mix of European and inter-continental discount routes but saw its customer total drop 4.4 percent in 2016 to 28.9 million. The unprofitable carrier is poised to shrink as it fights for survival in the tough German market, with half of its fleet to be hived off to Lufthansa or a separate leisure arm.
Ryanair Chief Executive Michael O'Leary told Bloomberg Television in Nov. 7 that his company was "doing very well in tough times as people trade down to lower fares." The carrier has raised its passenger target to more than 200 million customers by 2024, up from the previously forecast 180 million.
To be sure, Air France-KLM, IAG and Lufthansa remain Europe's top three carriers by traffic, a measure of passengers multiplied by the distance flown that's the industry's standard gauge for airline rankings. Traffic at discount operators is generally much lower since -- Norwegian aside -- they specialize in short-haul routes where quick turnarounds maximize aircraft utilization and passengers don't require much in the way of inflight service.
Shares of discount carriers generally outperformed network rivals last year, with Ryanair down 3.4 percent, compared with a 16 percent slide at Lufthansa, and SAS declining 43 percent as Norwegian slipped 11 percent. IAG lost 28 percent and Air France-KLM some 26 percent.
The weakest performer among leading low-cost carriers was Luton, England-based EasyJet, which suffered a 42 percent slump in its stock price largely as a result of its exposure to an uncertain U.K. economy and a weaker pound after the June 23 Brexit vote. The company reports 2016 passenger numbers Friday.
News by Bloomberg, edited by Hospitality Ireland