Ryanair Takes on Google over 'Misleading' Adverts
Published on Oct 8 2015 4:32 PM in General Industry tagged: Ryanair / Google / Kenny Jacobs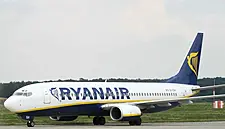 Ryanair has accused Google of a lack of transparency regarding its online advertising, and is considering taking action against the online giant.
The airline has has said the Google's placement of 'screen scraper' websites, such as eDreams, is causing customers to overpay for Ryanair flights.
The websites are placed above Ryanair's own website on Google searches which is leading to "numerous" customers buying through these third-party sites, which are oftentimes more expensive, claims Ryanair.
Ryanair's chief marketing officer kenny Jacobs said that Google is using it as "a mechanism to mislead customers" and some customers are getting the wrong information regarding flights.
"EDreams has been unlawfully selling Ryanair flights, by masquerading as Ryanair.com, and then offering customers a substandard service, with additional fees, or by often selling fares that don't even exist," said Jacobs, as reported by The Irish Times.
The airline has successfully prevented screen-scraper websites from selling Ryanair tickets in some European countries. It is now demanding Google to provide more transparency on its search pages.