Ryanair to Tackle Price Comparison Sites with New Website
Published on Aug 12 2015 3:37 PM in General Industry tagged: Ryanair / Lufthansa / price comparison sites / Skyscanner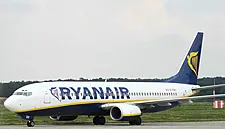 Ryanair is aiming to take on third-party travel sites by creating a new website, which will feature price comparisons as well as offers on nearby hotel rooms and restaurants.
The planned overhaul of the site is in a bid to become less reliant on sites such as Skyscanner.com and Google Flights for ticket sales. The Irish Times reports that around 200 IT staff are currently developing the new site.
Ryanair boss Michael O'Leary told Reuters that the airline want to limit the affect of "disruptors" by offering new services such as "price comparison, cut-rate hotels, discounted football tickets, concert tickets" to become the "Amazon.com of travel in Europe".
The basic function of the new Ryanair website will be a fare comparison service that shows prices form rival airlines.
Lufthansa has reacted to third party sites by adding a surcharge of €16 to flights booked outside the carrier's main website.
Ryanair will tackle the problem by going a different way altogether, with O'Leary saying the airline is considering 'scraping' prices using internet tools to show them on the site without their rivals' permission.
Although Ryanair sells 95 per cent of its tickets through its website, a significant number are sold from referrals from third party website. "We need to be careful, we are very wary not to allow Google to become the avenue by which we sell 50, 60, 80 per cent of our tickets," said O'Leary.
The new website will also feature deals on hotels with user-generated reviews, similar to TripAdvisor.