Tourism Ireland Celebrates Record Year
Published on Dec 13 2017 12:58 PM in General Industry tagged: Game of Thrones / Tourism Ireland / Niall Gibbons / Star Wars / Brendan Griffin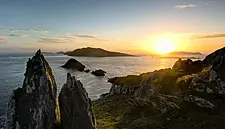 This year has proven the best yet for overseas tourism to Ireland, with revenue in the region of €5.78 billion (+6.7% on 2016) being delivered by 10.65 million international visitors.
Growth has come from all of the country's main markets around the world – the notable exception being Britain – with record numbers arriving to Irish shores from North America, mainland Europe, Australia, and developing markets.
Tourism Ireland has reflected on the highlights of its promotional activity around the world in 2017. These have included campaigns for Ireland's Ancient East, Dublin, the Wild Atlantic Way, Game of Thrones, and a campaign to capitalise on the Women's Rugby World Cup, as well as Tourism Ireland's annual Global Greening initiative on St Patrick's Day, which was bigger than ever this year.
The Minister of State for Transport, Tourism and Sport, Brendan Griffin, said, "The latest CSO figures indicate that over 8.5 million people visited during the January-to-October period – an increase of 3.1%, or an additional 254,000 overseas visitors, when compared with 2016.
"Overseas tourism is likely to contribute over €4.9 billion to the Irish economy this year, helping to sustain 225,000 jobs in communities around the country. In Budget 2018, the government continued to support the tourism sector with a €2 million capital investment in digital tourism marketing, increased funding for signature experience brands such as the Lakelands Region, and for Greenways, as well as retaining the lower 9% VAT rate."
Last week, Tourism Ireland launched its marketing plans to promote Ireland in 2018, with a target to grow overseas-tourism revenue by 5%, to €6 billion, for the economies of both the Republic and Northern Ireland.
Commenting on the year ahead, Tourism Ireland CEO Niall Gibbons said, "We are heading into 2018 in a position of some strength, based on the success of 2017. Over the coming weeks and months, Tourism Ireland will once again leverage the huge global popularity of Star Wars for Irish tourism. We will launch the first phase of our new Star Wars campaign next week, targeting fans of the science-fiction franchise everywhere."
Gibbons continued, "In 2018, Tourism Ireland will create 'standout' for the island of Ireland around the world, highlighting iconic experiences like the Wild Atlantic Way, Ireland's Ancient East, Titanic Belfast and the Causeway Coastal Route. We will also promote Dublin and Belfast, in particular, for shoulder and off-peak travel."