Tourism Ireland CEO Calls For Direct Flight Route To China
Published on May 18 2017 2:59 PM in General Industry tagged: China / Tourism Ireland / Niall Gibbons / Yue Xiaoyong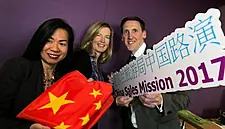 CEO of Tourism Ireland, Niall Gibbins, has asserted that Ireland requires a direct route to China, while adding that it needs to make itself "visa friendly" for the purpose of capitalising on a potential $442 billion Chinese tourism boom.
Gibbons announced that Tourism Ireland has submitted marketing proposals via the Dublin Airport Authority to partner with a Chinese airline to initiate a direct aerial route between the two countries.
The Irish Independent reports that Gibbons believes such a route to be "absolutely vital" and that he pointed out that in a bid to boost tourism from China, America and Japan are both offering 10-year visas to Chinese citizens.
Chinese ambassador to Ireland Dr. Yue Xiaoyong commented that bilateral trade between Ireland and China is picking up even further this year following a 13.75% growth in 2016 and urged Ireland to construct more quality accommodation to compensate for increasing Chinese tourist numbers.
It's predicted that within three years, Chinese overseas tourism will grow from 135 million visits to 200 million, which would mean a $261 billion market increasing to $442 billion by 2020.