Tourism Ireland's Wins 10 Awards For 'Doors of Thrones' Campaign
Published on May 30 2017 11:53 AM in General Industry tagged: Game of Thrones / Tourism Ireland / HBO / Doors of Thrones / Dark Hedges / Brian Twomey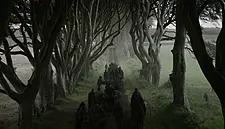 In the wake of last week's news that Tourism Ireland has entered into an agreement with HBO to commence a new Northern Irish tourism campaign to coincide with the season 7 premiere of Games of Thrones in July, the marketing company has taken home ten trophies, including those for "Best Event Led Campaign", "Best Art Direction" and "Best Use of Outdoor", at the Creative Circle Awards in London for its "Doors of Thrones" campaign.
These are just the latest in a long list of awards that Tourism Ireland has won for the campaign, which featured ten doors carved from the Dark Hedges trees that appeared on the show but blew down during Storm Gertrude. Hotel and Restaurant Times reports that "Doors of Thrones" brought an estimated 126 million tourists into Northern Ireland, with its promotional videos racking up more than 17 million views and generating approximately £11.3 million in coverage.
Tourism Ireland Head of Market Communications Brian Twomey said that "Tourism Ireland has been working hard to build awareness of Northern Ireland around the world and were really pleased to continue our partnership with HBO last year to highlight the beautiful landscape of Northern Ireland, through the exciting events of Games of Thrones, on the global stage."