Adare Manor Golf Course Granted Full Bar Licence
Published on Jul 28 2017 10:28 AM in Hotel tagged: adare manor / JP McManus Pro-Am / Halfway House / Derry O'Donovan / Brendan Gill / Tom O'Donnell / Limerick Circuit Court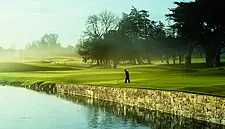 Adare Manor has been granted a new bar licence that will allow golfers to get a drink while working their way around the course, including during the JP McManus Pro-Am in 2020.
The so-called Halfway House, located between the ninth and tenth holes,  according to The Irish Examiner, was granted a full bar licence following an application put forth by senior counsel Derry O'Donovan on behalf of solicitor Brendan Gill to extend the venue's current alcohol licence to cover the hotel's new expansion.
The application was approved by Judge Tom O'Donnell of Limerick's Circuit Court earlier this week, with well wishes for the future of the new facility, which is situated between the ninth and tenth holes of Adare Manor's freshly refurbished golf course.