Ashford Castle Tops Huffington Post's Best Hotels List
Published on Sep 16 2015 12:15 PM in Hotel tagged: Tourism Ireland / Ashford Castle / Co. Mayo / Huffington Post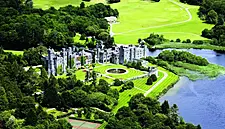 Ashford Castle in Cong, Co. Mayo has been named by the Huffington Post as the Best Hotel in the World for Fall, 2015.
The hotel, which was recently reopened after a €50 million renovation by new owners Red Carnation Hotels, topped author and travel writer Richard Bangs' list of ten hotels from all over the world.
In the article, Bangs said the five-star resort is "like being swept into a palace inside a manor inside a museum in a castle." The Huffington Post has over 65 million readers in the US.
Niall Gibbons, CEO of Tourism Ireland, said: "Congratulations to all at Ashford Castle on yet another truly well-deserved accolade. Publicity is a very powerful tool in promoting Ireland – in the United States and elsewhere around the world. The Huffington Post website has about 65 million readers, so this type of positive exposure and recognition is invaluable – it is publicity that money simply cannot buy."
Ashford Castle has been receiving a number of plaudits since its much-heralded reopening in April this year. The hotel was voted the world's third-best by readers of travel magazine Travel + Leisure, and was recently crowned the best in the world by luxury travel network Virtuoso.
Read Hospitality Ireland's exclusive report on Ashford Castle here.