Broadhaven Invests €35m In McGettigan Hotels
Published on May 15 2017 11:31 AM in Hotel tagged: Regency Hotel / McGettigan Group / Broadhaven Credit Partners / Oaktree Capital / Bain / Dermot Desmond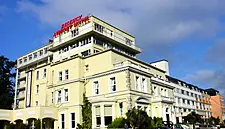 The McGettigan Group, which runs The Regency Hotel in Dublin as well as several other venues around Ireland, has been rescued from examinership by a €35 million investment from Broadhaven Credit Partners, an alternative lender backed both private US equity company Bain and financier Dermot Desmond.
As reported by The Independent, the refinancing of the McGettigan Group resulted in the ousting of its former lender, Oaktree Capital, and caps a swift growth period for Broadhaven. It is understood that the latter firm hopes to double its dealings in Ireland over the next four years, increasing its hold on the market to upwards of €1 billion.
Broadhaven is said to be counting on its greater level of flexibility to allow it to compete with the major banks. The firm offers margins as low as 4.5% and targets loans of €7 million and above, but has no limit as it can call upon Bain's €26 billion credit unit.