Even the Super Rich Want Free Wi-Fi in Hotels
Published on Jan 26 2016 4:57 PM in Hotel tagged: hotels / wifi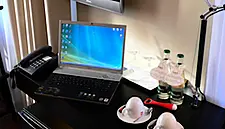 Check into any middling US hotel and chances are good that the Wi-Fi is free. Have a white-gloved butler escort you to the Penthouse suite, however, and your lavish lodgment may well bill you for Inte...
Check into any middling US hotel and chances are good that the Wi-Fi is free. Have a white-gloved butler escort you to the Penthouse suite, however, and your lavish lodgment may well bill you for Internet access.
The wealthiest among us have noticed this disconnect, and they are not pleased.
A reporton the habits and preferences of the wealthiest 1 per cent and 5 per cent of travellers finds that complimentary Wi- Fi is the top "desirable amenity" for more than half this demographic. Fifty-one per cent called it "extremely important," while 66 per cent said it was at least "very important" to have at a hotel.
The research is drawn from a survey of 2,391 travelers by Resonance Consultancy. The top 1 percent was defined as those with annual income of $400,000 or more or a net worth above $8 million. The 5 per cent were classified as earning at least $200,000 per year or having $2 million or more. (The former group represented 724 of those surveyed.)
Many of the priciest hotels charge extra for the Wi-Fi simply because they can—guests are traveling for business and expensing the cost or are wealthy clients who don't care about paying a bit more, said Henry Harteveldt, a travel consultant with Atmosphere Research Group in San Francisco.
"It's a glaring inconsistency in the hotel business, and frankly it's just a flat-out stupid approach to doing business," he said.Un-Standard Amenity
The issue is likely to continue roiling many upscale lodging chains that are weighing where and how to offer Wi-Fi and whether it will need to become complimentary. For now, many luxury brands, including Fairmont Hotels & Resorts and Kimpton Hotels & Restaurants Group, offer free Internet access to guests who join their loyalty programs.
Starwood Hotels & Resorts Worldwide, for example, offers free Wi-Fi in public spaces and to members of its loyalty program, provided the rooms were booked through the hotelier's website or mobile app. That helps reduce the company's distribution costs. Its lower-cost chains—Aloft, Element, and Four Points—offer free in-room access, while guests at its luxury St. Regis properties have complimentary Wi-Fi, period. Yet in the middle of Starwood's hotel-room price pack, the W and Westin brands charge guests additional fees to access Wi-Fi in their rooms.
InterContinental Hotels & Resorts offers free Wi-Fi to all members of its loyalty program. Even if you don't join it, Internet is free at seven of the company's midscale brands, including Holiday Inn and Crowne Plaza. No such luck at the luxury Intercontinental chain, though.
It's not clear why a $500 (or more) hotel room doesn't offer some level of free Internet when countless Starbucks, airports, and coffee shops have figured out the economics of doing so. It could be that most hotels consider the road to free Wi-Fi easy enough and see it as a critical way to drive greater participation in loyalty programs and direct bookings.Bowing to Demand
Others have capitulated to demand. Nearly a year ago, on Valentine's Day, Hyatt Hotels made Wi-Fi free in rooms and public spaces at its more than 500 properties worldwide. (Meeting rooms are not covered by the policy.) "Wi-Fi had quickly become a basic expectation for travelers, as essential as a comfortable bed or clean room," Hyatt Hotels spokeswoman Stephanie Sheppard said via e-mail.
Such hotel operators as Hilton Worldwide Holdings offer free basic Internet access but levy fees for greater bandwidth use, including video streaming. This trend partly reflects the growing inventory of Wi-Fi gadgets travelers now pack: typically, a laptop, tablet, and smartphone per person, Harteveldt said. Lodge a couple with two teens in a hotel, and bandwidth needs multiply rapidly.
Still, the apparent gap between room prices and free Wi-Fi is not lost on many travelers. It also helps explain why so many trendy hotel lobbies are clogged with guests pecking at phones and laptops.
"It's just a jarring inconsistency and a black mark on what is otherwise a wonderful guest experience," Harteveldt said.
After free Wi-Fi, privacy was the second-most requested hotel amenity for affluent travelers, according to the report. Tennis was the least attractive hotel option, just below kids' programs.