Johnny Ronan's Co.Wicklow Hotel Denied Planning
Published on Jul 25 2017 10:52 AM in Hotel tagged: Wicklow County Council / Johnny Ronan / Enniskerry / St. Valery's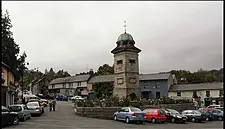 Wicklow County Council have refused planning permission for developer Johnny Ronan's proposed €50 million sports hotel at St. Valery's in Enniskerry.
According to the Irish Independent, permission was denied on two grounds, stating that by reason of its bulk and scale, the proposal would be an intrusive feature and would adversely affect views from the N11 to St. Valery's and be detrimental to the visual amenities of the area.
A previous hotel proposal for the site had already been turned down. However, Ronan's architects asserted that the size of the new proposal had been significantly reduced. After Ronan's firm was granted a six month extension to the application to give him time to adjust the plans based on the council's concerns, opposition arose from some Enniskerry residents, who expressed concerns about being overlooked and the impact the structure wold have on the surrounding scenery.
Local traders, on the other hand, supported the proposal due to their belief that the hotel would be an asset to the community and serve to showcase the natural beauty of the area.
This is the second such setback Ronan has faced in the past month, following the recent rejection of his plans for a 22-storey tower adjacent to Tara Street by Dublin City Council.