Livingstone Brothers Paid €2M to Break Four Seasons Contract
Published on Aug 18 2015 11:16 AM in Hotel tagged: InterContinental / Four Seasons / John Malone / Ballsbridge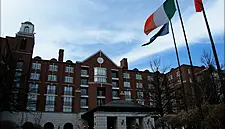 The former owners of the InterContinental Hotel in Ballsbridge, Dublin paid €2 million to break away from the Four Seasons group, according to a report in the Irish Times.
It reports that hoteliers and former owners the Livingstone Brothers cancelled the hotel's contract by paying the sum, according to accounts filed recently by Ballsbridge Hotel Ltd.
The business had a turnover of €20.8 million in the year to the end of September 2014, a pre-tax loss of 1.87 million when the €2 million payment to the Four Seasons group is included.
The hotel, which operated as the Four Seasons from when it opened in 2001 until it reached a franchise agreement with the InterContinental Hotel Group early this year, was purchased for an estimated €50 million in March by a US-backed consortium, headed by property investor John Malone.
Ian and Richard Livingstone purchased the Four Seasons hotel just over five years ago for €15 million and are believed to have made a considerable return on their investment.