Shannon College Of Hotel Management Launches Hotel Leadership Course With Conor Kenny
Published on Nov 10 2016 2:45 PM in Hotel tagged: Shannon College / Hotel Management / Conor Kenny & Associates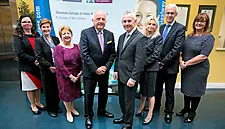 Shannon College of Hotel Management is partnering with hotel training and professional development firm, Conor Kenny & Associates, to launch Ireland's first university-awarded certificate course in Hotel Leadership.
It is set to commence in January 2017 and will provide hotel managers and senior staff with a practical and implementable understanding of leadership for today's hospitality industry.
The course, which will have new bespoke content, will provide new and experienced hotel managers with insights into the areas of managing and motivating people, hotel leadership and driving customer satisfaction to ensure repeat business. The programme will combine theory, research, expertise and practical lessons as well as including business leaders from outside the industry.
Key lecturers and speakers include Philippe Leboeuf general manager at Mandarin Oriental; Kate O'Connell deputy head of Shannon College; Conor Kenny founder and principal of Conor Kenny & Associates; Prof. John McHale Professor of Economics and Dean of the College of Business; Dr. Ultan Sherman Psychologist and lecturer at University College Cork; and Bobby Kerr broadcaster and founder/chairman of Insomnia Coffee Company.
Dr. Phillip Smyth, Head of College at Shannon College of Hotel Management, said: "We are delighted to launch Ireland's first university-awarded course in Hotel Leadership which will provide hoteliers – many of whom are our graduates – with an opportunity to advance their leadership skills. We are excited to partner with Conor Kenny and his team who bring unparalleled experience in advising companies within the hotel and hospitality industry."
Conor Kenny, principal at Conor Kenny & Associates, added: "We look forward to working with Shannon College to launch Ireland's first course in Hotel Leadership in 2017. We believe this is a unique opportunity for hoteliers to build on their experiences, learn from our range of carefully selected course lecturers and guest speakers, and in particular, meet with and learn from a world-leading hotelier, Philippe Leboeuf, who has managed some of the world's iconic hotels."