Trump Doonbeg Development Was 'Unpleasant Experience', Says President-Elect
Published on Jan 17 2017 10:48 AM in Hotel tagged: Donald Trump / doonbeg / Brexit / Trump International Hotel & Golf Links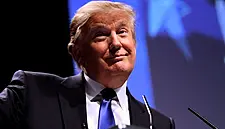 After having to withdraw an application to build a sea wall at Clare's five-star Trump International Hotel & Golf Links in Doonbeg, President-elect Donald Trump described the planned development as "a very unpleasant experience" and has said "now I couldn't care less about [Doonbeg]", reports The Irish Independent.
Speaking in a joint interview with The Times and German newspaper Bild, Trump commented: "What happened is I went for an approval to do this massive, beautiful expansion - that was when I was a developer, now I couldn't care less about it [...] but I learnt a lot because […] they were using environmental tricks to stop a project from being built.
"I found it to be a very unpleasant experience. To get the approvals from the EU would have taken years. I don't think that's good for a country like Ireland. So you know what I did? I said forget it, I'm not gonna build it." He also commented that "Brexit will be a great thing […] you were so smart".
Despite the failed plans, the five-star hotel had its "strongest year in the history of the property" and has "a tremendous amount of business already in the books" for 2017 according to Eric Trump.