Chopped To Open 20 New Stores, Creating 300 Jobs
Published on Apr 12 2017 10:41 AM in Restaurant tagged: Dublin / fast food / Chopped / Co. Wicklow / Health Food / kildare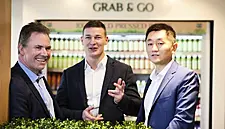 Health food chain Chopped is to press ahead with the opening of 20 new outlets across Ireland, which is expected to create 300 new jobs.
The new stores have been earmarked for Wicklow, Cork, Waterford and Dublin, with by the end of 2017, some 320 jobs - both part-time and full-time - will be made available, reports the Irish Independent, while some 110 jobs will be created in the UK as the company expands outside of Ireland for the first time.
"Last year we set a target of increasing our staff numbers by 100 and we exceeded that expectation by increasing our employees by 140 in 2016," said Brian Lee, co-founder and managing director of the company, on the Late Late Show last Friday.
"When we received the keys for our first store five years ago, we knew it was the beginning of something great, but we still believe this is only the beginning for Chopped. Our staff are what makes Chopped the success it has become and we are looking forward to seeing our family grow as we expand across Ireland and beyond."
Chopped currently has locations in Dublin, Kildare and Galway,