The First Nobu London Hotel Will Serve a Great Breakfast
Published on May 23 2017 11:36 AM in Hotel tagged: London / New York / sushi / Nobu Matsuhisa / Shoreditch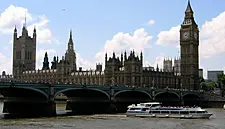 When Nobu Matsuhisa opened his first restaurant in London 20 years ago, there were very few places you could get a good meal in town. Now, the most exciting thing about his latest opening—a hotel a...
When Nobu Matsuhisa opened his first restaurant in London 20 years ago, there were very few places you could get a good meal in town.
Now, the most exciting thing about his latest opening—a hotel and restaurant in the hip Shoreditch neighborhood—might be that you'll finally be able to enjoy a great Japanese breakfast here. So, yeah. A lot's changed.
Matsuhisa's third restaurant in London is scheduled to open July 1, it will be massive (240 seats), and it will be his first in the city to serve breakfast. (It's in a hotel, after all.) The preliminary menu includes dishes such as matcha waffle and chicken with smoked maple ponzu and pecan miso butter for £16 ($21); a breakfast bento with umami seabass for £20; and his own take on eggs benedict, with crispy tofu, spinach, snow crab, shiso bearnaise and salmon egg for £20.
Wash it all down with a glass of charcoal lemonade, coconut water  or a freshly pressed "greenhouse" juice melange of kale, spinach, romaine, celery, cucumber, lemon, and ginger (£6 each).
Sitting in a partially finished guest room, Matsuhisa is joined by a handful of assistants and publicists, while construction workers shuffle down the corridor. Outside, young employees gather on an East London street to get ready for a group photo with their 68-year-old boss.
He says he remembers the skepticism when he wanted to open a restaurant in London, shortly after his first project with the actor Robert de Niro opened in New York in 1994.
"They said, 'Why go to London? London food is bad,'" he says. "It was a challenge to bring my style of food here. I am very excited about London's big changes in the last 20 years."
There are now more than 30 Nobu restaurants around the world, but the hotels are much more recent. The first opened in 2013 in Las Vegas. Matsuhisa says it was all De Niro's idea.
"A lot of people ask us to open restaurants in somebody's hotel," he says. "De Niro already had experience of owning hotels—very good hotels, and he said, 'Nobu, why don't you open a Nobu hotel?'"
He says London was the obvious choice for his first hotel in Europe.
"It had to be London," he says. "It is such a big city and so cosmopolitan. Already, we have a lot of customers here and people traveling the world, international people, come to London."
Nobu Hotel Shoreditch has 143 guest rooms and seven suites. At its heart is the restaurant, featuring a 10-seat sushi bar and an 18-seat chef's table. The design by California-based Studio PCH features concrete, bronze, oak timber, and glass.
Overseen by Executive Chef Greg Seregi and Executive Sushi Chef Noriyoshi Teruya, the daily menu will feature all the signature Nobu dishes such as black cod with miso.
Why pick Shoreditch for the hotel? The East London neighborhood is a long way from the glitz of Mayfair.
"That's the point," he says and smiles. "I don't want to be close to the others because it is competition. Shoreditch is a new area, and it will bring a new generation of customers. It is perfect for us."
Not that there won't be competition. Just down the road from Nobu, the Curtain is opening soon—developed by the group behind the Gansevoort Hotel in New York—and will feature a Red Rooster, an outpost of Marcus Samuelsson's successful Harlem comfort-food restaurant.
For a chef who is such a big celebrity, Matsuhisa appears modest. He is quietly spoken and reflective, with a certain charm, but he appears more interested in tackling questions seriously than in trying to sell anything or to make friends.
The interview over, we all head down to the street where dozens of employees are gathered for a group shot. Matsuhisa comes to life as he greets the young people, smiling broadly.
The hotel and restaurant officially open on July 1, and bookings are already being taken.
Article by Richard Vines, chief food critic at Bloomberg.