Harlem's Best Fried Chicken Arrives in London
Published on May 26 2017 10:58 AM in Restaurant tagged: London / Harlem / fried chicken / Red rooster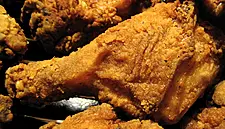 Red Rooster became a hit in Harlem thanks to chef Marcus Samuelsson's take on Southern comfort food—and became internationally famous because former President Barack Obama was a huge fan. He even held a fundraiser there. Today, the first foreign outpost of Red Rooster opens at the new Curtain Hotel in London's hip Shoreditch neighborhood.
About half the menu will be the same as the New York location: There will still be chicken 'n waffles for £10 ($13), fried yard bird (£19) and the Obama short ribs (£33), a recipe fit for a president. (Check it out below.) But he's using some local ingredients and adding dishes to reflect his background, such as Uncle T's herring (£8). Plus, there will be a taqueria called Tienda Roosteria.
Samuelsson, 46, who was born in Ethiopia and raised in Sweden, became a star early in his career. More than two decades ago, when he was in his early 20s, he earned a three-star review from The New York Times as the chef at Aquavit. Now his brand and marketing empire has expanded to restaurants in Bermuda, Sweden, and Norway, and he's a regular on shows such as "Chopped" and "Iron Chef America."
He spoke with Bloomberg in London on the eve of the opening. The interview has been lightly edited for brevity and clarity.
Why London and why Shoreditch?
Growing up in Sweden, London has always been the big city that you have ambition for. I just felt that East London would do us a level of mystique for me—and also for our customers, in that they've been to London many times, but mostly on the West side.
What will the taqueria be like?
We are inspired by Mexico, but we are not trying to be authentic. We are trying to be delicious. We're doing some tacos that are traditional and some that are not. We're doing one we call Addis Taco that starts with injera bread. It's the shape of a taco, and you pick it up with your hand, but it has Ethiopian flavors. We make all our tortillas here, and we have all Latin staff, which helps for flavor. We'll do vegetarian tacos so we will roast cauliflower and do salsa with that, and breakfast tacos and stuff like that.
How would you describe your food? Do you use the term soul food?
I don't actually, not that often. It depends who I am speaking to. If you're not a foodie and you just need to know in one phrase what it is, it's modern soul food. But soul food itself, it's not a cuisine. It is Southern cooking. It's the food of the migration. It is inspired by me as an immigrant: deep roots in Scandinavia, so you will see some techniques with herring and so on. And then the African in me. Where did America get its Southern food from? It got so much from Africa through the slave trade.
Do you think of yourself as a black chef?
I think of myself as a chef, period. We all have different narratives. Being a good chef is about understanding yourself.  Growing up in Europe, all we were taught was French food or Swedish food. Going to Japan and Singapore changed my life. Then, as I lived in America, then your African-American identity becomes stronger around food.
You famously cooked for Obama. What do you make of the election of Donald Trump?
He can do everything he wants but diversity is not a label. Our family was extremely diverse, even though we grew up in a not-so-diverse country. My aunty was Jewish, my cousins were Koreans, my other cousins, my sisters and I were mixed, my [adoptive] parents were white, my cousins were Canadians. What I think we can draw from this is that the art will be better than ever, resistance will be better than ever, music will be better than ever, food will be better than ever.
News by Bloomberg, edited by Hospitality Ireland