Irish Deliveroo Drivers Reveal Their Weirdest Customer Encounters
Published on Jul 5 2017 2:22 PM in Restaurant tagged: Deliveroo / Aviva / Rihanna / Funderland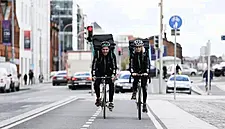 In a new report published by the Irish Mirror this week, a group of drivers for food delivery service Deliveroo have revealed the weirdest encounters they've had with customers while on the job.
It seems that not everyone opts for the traditional cash tip when drivers turn up at their door, with one employee recounting an instance of being offered an old pair of shoes as a thank you for his trouble.
Not every monetary alternative is so unappealing though, as the driver who was gifted two tickets to Rihanna in 2016 will tell you. Apparently the customer in question was in the business of music promotion and just so happened to have a couple of spare passes lying around for the singer's show in the Aviva last year. Similarly, someone who responded to a call from Funderland workers was awarded with free access to the fair's rides.
But it seems unorthodox gratuities are just the tip of the iceberg when it comes to bizarre customer encounters at Deliveroo.
One bewildered driver found himself having to disregard his delivery to help a pregnant woman out to her husband's car after she went into labour. The driver's good deed didn't go unrecognised either, with the new father singing the employee's praises to his bosses several weeks later.
Meanwhile, another rider recalled turning up at an address only to be told to give the food to a homeless woman across the street, while one of his colleagues was lucky enough to meet his girlfriend of six months during a delivery run.
One driver in Limerick had his shift ruined when he was unwittingly assigned the task of taking food to the front door of his ex-girlfriend and her new significant other.