Kricket Brixton Hits Indian Food Out of the Shipping Container
Published on Jan 11 2016 10:12 AM in Restaurant tagged: London / indian restaurant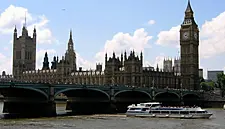 As career moves go, quitting a job in corporate finance to open a temporary restaurant in a tiny shipping container could be too risky for some.
For Rik Campbell, 27, who joined Deloitte & Touche immediately after graduating from Newcastle University in politics and history, it might just work. Kricket, which serves small and inexpensive light Indian dishes, along with cocktails, was a hit from day one, garnering acclaim from professionals and punters alike.
Kricket's space in the Pop Brixton community campus for startups is 40 feet long (12 metres) and 8 feet wide, with the kitchen occupying one-third. The container seats 20 at communal tables, with space for eight outside.
Less than a year after opening in south London last June, the restaurant seems set to expand, possibly overseas.
"We had a guy come in the other day, he enjoyed it so much that he wrote his number on a piece of paper and said, 'Call me: I have £100,000 to invest,'" says Campbell.
"Not even joking. We had a guy from Australia with shares in a group of companies and he said, 'You would absolutely kill it in Melbourne.' Talked about flying us out to look at sites over there.  We've had a lot of interest."
'When we were getting started, a bank took us twice to the 11th hour and then dumped us out'
Campbell founded Kricket with his college friend Will Bowlby after spending three years as an associate in transaction services at Deloitte. Initially he planned to open a cocktail bar, building on his experience creating an events business at university. "By the third year, we'd built a pretty solid promoting and events business that turned over six figures," Campbell says.
After leaving Deloitte, Campbell worked part time in his mother's business while plotting his next move.
(His mum, Jenny Campbell, is no slouch. She spent 32 years with the Royal Bank of Scotland Group and now runs YourCash, the ATM provider that she bought in a buyout. She was named Businesswoman of the Year in 2014.)
Campbell's friend Bowlby then returned to the UK after two years as a chef in Mumbai, where he worked at Cheval Bar & Restaurant. Together, they came up with the idea for Kricket.
"It cost us £50,000 to set up the restaurant," Campbell says. "Half of that was done from our own savings and half was from a personal loan from a family member. And I am happy to say we are coming to the point where we have little or no debt. When we were getting started, a bank took us twice to the 11th hour and then dumped us out. We've got about £10,000 of debt and we've paid off all our costs."
Expansion to a second site, even overseas, is on the cards.
"But ideally, we want to retain 100 percent of our business, like everyone [does]. I'd like to build our brand a bit more, make it more valuable first. The plan is to do four or five in key locations around London, Brixton, East London, Soho, West London, maybe Bermondsey, and keep them not too big. We want to keep the quality, not overdo it.
"From people we've spoken to, I think Kricket could really work in cities outside the U.K., like Melbourne for example, San Francisco. A lot of these places really haven't pushed the boundaries with Indian food."
(He still faces significant risks. The restaurant business is notoriously tricky, although the oft-quoted figure of a 90 percent failure rate may be a myth.)
While planning expansion, Campbell and Bowlby have been spreading the word. They have done collaborations/residencies with East London venues such as Shoreditch House and Barber & Parlour  and plan a pop-up at Soho House Berlin.
How does all this feel after Deloitte?
"I feel great because I walk to work with a big smile on my face every time," he says. "I am my own boss. I don't have to answer to anyone. I don't have any investors. But it is much more stressful because you don't switch off.
"When Will and I opened, we were working every day for two months, seven days a week. And the problem was that you were tired, absolutely knackered, we looked awful. But we couldn't get to sleep a night. All I was thinking is what can I do to improve this, to improve that. I went to bed with 10 things in my head I could do better the next day.
"The stress levels are definitely higher but it is a good stress."
Article by Richard Vines, chief food critic for Bloomberg