London Hotspot for Celebrities and Prime Ministers Is Going Big
Published on Nov 24 2016 10:12 AM in Restaurant tagged: London / Mayfair / Heston Blumenthal / Kitty Fisher's / London dining / Danny Meyer / v / Brad Pitt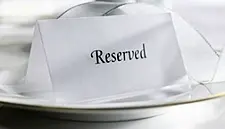 The owners of Kitty Fisher's, which became London's hottest restaurant when it opened two years ago, plan to add four or five more locations that replicate its casual vibe while branching into new kinds of food.
The model for this expansion strategy is that of chef April Bloomfield in New York, who enjoyed huge success at the Spotted Pig gastropub, before opening a variety of new restaurants, including one specializing in fish and another selling burgers.
The success of Kitty Fisher's surprised owners Tom Mullion, Oliver Milburn and Tim Steel. It is a small restaurant with a tiny kitchen where chef Tomos Parry cooks seasonal dishes over a wood grill. Celebrities including Brad Pitt were among early guests, along with then-Prime Minister David Cameron, chef Heston Blumenthal and New York restaurateur Danny Meyer.
It was the hardest place in London to get a table. You were lucky if anyone even answered the phone, leaving the owners' private numbers as the surest route to a dinner reservation.
"The success came early and a lot of people were trying to get into a small space," Milburn said of the 34-cover site. "Also, we were telephonically challenged. We gave ourselves an hour or two a day to answer the phone because we were doing service and there were no other hands to do it."
The expansion is set to begin next year. Mullion and Milburn said a pub could do well, and perhaps a site close to the original Kitty Fisher's on Shepherd Market in Mayfair. They also are considering a focus on fish, and a restaurant with drinks and small plates.
"We've had this success over two years and it is now we feel the time is right to grow," Mullion said. "The plan is not to roll out identikit Kitty Fisher's over the city, but we want four or five sites across the capital, all being fiercely independent restaurants."
The growth will happen without Parry, who is leaving at the end of the year to seek his own London restaurant. A replacement has yet to be named.
"There was a great buzz when we opened, and it helped create a great environment in the kitchen," Parry said. "I didn't go there to open the hottest restaurant. It just happened and it was a surprise. But now it is natural to go on to the next step in my career."
Article by Richard Vines, chief Food Writer with Bloomberg