McDonald's Cuts Jobs at Headquarters as CEO Squeezes Costs
Published on Aug 7 2015 9:40 AM in Restaurant tagged: McDonald's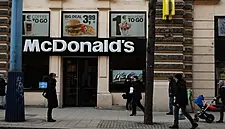 McDonald's is making another round of job cuts at its headquarters in the US, as the burger chain struggles with declining sales.
The company will be terminating about 135 workers in the move, starting on 15 September, according to state documents. About 368 workers have been hit this year by cutbacks at McDonald's headquarters and other offices across the US The company also is trimming 90 jobs overseas, spokesman Jeff Mochal said.
Earlier this year, the chain closed offices in North Carolina and Arizona. Several of the workers in those jobs were offered positions elsewhere within McDonald's US operations, Mochal said.
McDonald's, which named Steve Easterbrook chief executive officer in March, is coping with tumbling sales by reducing expenses and streamlining the company. Comparable-store sales have dropped for seven straight quarters in the US, where McDonald's has about 14,300 locations.
McDonald's, the world's largest restaurant chain, has about 420,000 workers worldwide, including restaurant employees at its corporate-owned locations.
"We do not take decisions that impact jobs lightly, but we committed in May to implement meaningful changes to reset our business, remove layers and find cost efficiencies," said Heidi Barker Sa Shekhem, a McDonald's spokeswoman. "We are acting with a sense of urgency on that commitment."
In May, Easterbrook said that "structure and ownership" changes will save $300 million in general and administrative costs a year by 2017. At that time, McDonald's announced a plan to divide leadership into four segments, each overseeing different global geographies. Job cuts weren't mentioned directly.
"The G&A support structure for our new market segments will be significantly leaner than it is today, as we move to a flatter, more nimble organization," Chief Administrative Officer Peter Bensen said in May.
News by Bloomberg, edited by Hospitality Ireland