McDonald's Launches 'Create Your Taste' Burger Innovation
Published on Aug 5 2015 11:24 AM in Restaurant tagged: McDonald's / burger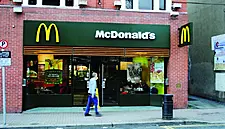 McDonald's new Create Your Taste custom-burger concept arrived in Manhattan this week, giving New Yorkers their first look at the chain's high-tech future.
A remodeled store on Third Avenue in Midtown now lets customers order via large touch screens, allowing them to pick the toppings, buns and sauces they want on their sandwiches.
The touch-screen kiosks are slick and fun to use, though they take a bit of practice. One of our testers missed some basic items such as tomatoes and lettuce because he didn't scroll down enough.
And it's not cheap. A medium Create Your Taste burger meal with bacon, fries and a Coke was more than $12.
It's also a long wait, by McDonald's standards at least. The kitchen doesn't even begin cooking the sandwich until customers complete and pay for their orders. (You can use a payment card right at the kiosk.) After that, it takes eight to 10 minutes. For our testers, the time was at the upper end of that range or slightly beyond it.
Customers are given a buzzing coaster, and when the order is ready, the staff comes out to find you - even if you're getting it to go. You also can get the same Create Your Taste options at the register, though that will probably take longer. And the whole experience seems to work better for customers who dine at the restaurant.
The order comes in a large grocery-style bag, and there's no McDonald's logo on the front. That lets New Yorkers go incognito.
One question: Why does the chef hat have a skewer through it? Looks painful.
The food was universally praised by our testers, with one saying it was the best McDonald's burger he'd ever had. The optional artisan roll elevates the sandwich, another said. Create Your Taste also offers mushrooms, guacamole, sriracha and other items not typically found on McDonald's burgers.
The quality and selection may entice customers back to McDonald's, which is trying to recover from its worst slump in more than a decade. The question is whether they'll stay after the novelty wears off.
News by Bloomberg, edited by Hospitality Ireland