Nine of the World's Best Tiny Restaurants
Published on May 2 2017 10:36 AM in Restaurant tagged: paris / Canada / London / New York / Tokyo / The Supper Club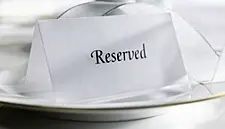 he hottest commodity in restaurants right now is not purple asparagus or black sesame tahini. It's space. The combination of rising real estate prices and an environment that favours a nimble pop-u...
he hottest commodity in restaurants right now is not purple asparagus or black sesame tahini. It's space.
The combination of rising real estate prices and an environment that favours a nimble pop-up philosophy has created a glut of very tiny, very intimate dining experiences all around the globe. Even Wolfgang Puck, the original celebrity chef with a $400 million empire, made his newest restaurant a 10-seat tasting menu this month, which is either the chef's clever way to get back in the kitchen or a ploy to capture some of-the-moment street cred.
For foodies, these snug spaces also allow for bragging rights once you've scored a seat at a place that has so few. Whether your idea of a good time is starched linen and the finest of dining or a laid-back encounter slurping down a bowl of ramen, here are nine small-scale restaurants, all with 14 seats or fewer, to reserve now. As long as you're not claustrophobic.
The Supper Club
Mr. Donahue's, New York (9 seats)
Manhattan is a city with limited space, and one of the tiniest dining rooms in town is Mr. Donahue's, a nine-seat storefront café in Soho. Chefs Matt Danzer and Ann Redding celebrate old-school Midwestern supper clubs, where you can choose a main course, a sauce, and two sides for $20. That could be realized as a fillet of seared steelhead trout with cowboy butter, or over-the-top chicken fried pork cheeks with pepper gravy and asparagus almandine. There are no reservations, and they don't take cash.
The Michelin-Starred Bargain
Tsuta, Tokyo (9 seats)
How much would you pay for a Michelin-starred meal? At Tokyo's 9-seat Tsuta, you can treat yourself to a bowl of critically-acclaimed buckwheat ramen for little more than what you might spend at Burger King. If the long queues outside don't put you off, you'll have four important decisions to make: hot or cold, soba or tsuke soba, salt or soy sauce soup base. And then add your trimmings. Seventy tickets are sold outside the restaurant from 8am each day.
The Dinner-Party Night Out
Marianne, London (14 seats)
The namesake restaurant of Marianne Lumb, the former contestant on TV's Masterchef, has a a small dining room and an open kitchen from which Lumb serves European dishes with a modern edge—think cannelloni of Anjou quail with endive. The atmosphere inside, though, is more like a posh dinner party filled with all your favorite people. Prices are reasonable for Notting Hill, and there's a separate menu for vegetarians.
The Experimental Bar
Minibar by José Andres, Washington D.C. (12 seats)
Chef José Andres helped put Washington D.C. on the U.S. culinary map with a series of notable restaurants like the Mexican Oyamel and the Spanish-inflected Jaleo. His flagship, though, is still the 12-seat counter Minibar, where Andres and his team concoct wildly avant-garde dishes: Golden squares of ham consommé croquettes, coated in tapioca, might be presented in a white sculpture of a hand. Tickets are not easy to get.
The Long Sit-Down
Naoe, Miami (8 Seats)
Don't try to squeeze dinner at Naoe into a busy evening. The average meal lasts two-and-a-half hours, with seatings twice a night, at 6 p.m. and 9:30 p.m., for the eight people who have reserved ahead. The restaurant specializes in deluxe Japanese cuisine from chef Kevin Cory. His bento box might contain silky chawanmushi, or egg custard, with poached cobia and shiitake, plus outstanding pieces of nigiri sushi like sake-infused abalone. One thing that makes Cory's food so good: The flavor of the soy sauce he adds, from his family's shoyu brewery in Japan.
The Far-Flung Farm
The Bite House, Nova Scotia, Canada (12 seats)
Just a dozen seats, in a 100-year-old farmhouse on an island. In Nova Scotia. The Bite House is not the sort of place you stumble into after a few drinks on a Friday night, but that's just as well. The restaurant, which serves a five-course set dinner that changes each month, is currently booked until October. If you do score a reservation, you can look forward to ingredients freshly grown, foraged or sourced from local independent farmers.
The Cabinet of Curiosities
Histoires by Mathieu Pacaud, Paris (12 seats)
Accessed through a hidden door within another restaurant, Histoires boasts two Michelin stars and a price tag you would expect from a fine dining Parisian eatery. Mathieu Pacaud, chef of three-Michelin star L'Ambroisie and son of cook Bernard Pacaud, spent many months testing out hundreds of menu combinations. The spacious, elegantly decorated 12-seater serves dishes "inspired by the canonical masters who shaped [Pacaud's] appreciation for the arts," including Beethoven, Brahms, Chopin, Dante, and Matisse.
The Restaurant for Two
Solo Per Due, Italy (2 seats)
Choose your dining companion very carefully. Solo Per Due, in the countryside north of Rome, bills itself as the world's smallest restaurant—two seats. It is housed in a historic building surrounded by gardens and a candle- the driveway is lit by candles. It helps if you're feeling romantic. The restaurant is happy to supply a heart-shaped cake and flowers and, with no fellow diners to annoy, you can even choose the background music. Champagne and engagement rings cost extra.
News by Bloomberg, edited by Hospitality Ireland