Pay Raise Fails to Satisfy McDonald's Critics
Published on Apr 2 2015 6:43 AM in Restaurant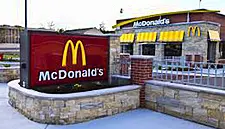 Labour organizers have a message for McDonald's Corp.: Nice try, but the protests will continue.
The Fight for $15 campaign, which began calling for fast-food chains to raise wages and allow workers to unionize in 2012, wasn't mollified by McDonald's announcement Wednesday that it would boost pay. In addition to protests scheduled for 15 April, the group plans to gather outside McDonald's restaurants on Thursday to criticize the company for not going far enough.
"There's still millions of families in poverty due to McDonald's not raising to $15," said Kendall Fells, the campaign's organizing director. "We're going to show McDonald's this movement won't stop until we get what we deserve."
McDonald's said Wednesday that it will raise pay at US company-owned stores, which account for about 10 per cent of its more than 14,000 domestic locations, by at least $1 above the local minimum wage. The Oak Brook, Illinois-based company also will begin offering vacation benefits as part of the plan, which takes effect on 1 July.
By the end of 2016, the fast-food chain expects workers at company-owned locations to earn more than $10 an hour on average. McDonald's said about 90,000 employees would get the raises. Employees at the approximately 90 percent of restaurants run by franchisees will not.
The pay hike marks a dramatic early move for new chief executive officer Steve Easterbrook. After his promotion to the top job last month, Easterbrook has been working to reignite growth at the fast-food chain. Other efforts include a test of all-day breakfast at San Diego restaurants and a touch-screen system that lets customers customize burgers and sandwiches.
McDonald's has been grappling with sluggish sales in its home market and a health scare in Asia, where a supplier was accused of repackaging old meat after it was past its expiration date. US same-store sales fell four per cent in February, a worse decline than analysts had predicted.
The raises didn't far enough for some workers. Kwanza Brooks, a McDonald's employee who makes $7.25 an hour at a company-owned store in Charlotte, North Carolina, dismissed the move as public-relations gimmick.
"It's a PR stunt," Brooks, 38, said on a conference call organized by the Fight for $15. "And that PR stunt isn't going to pay my gas bill this month, or get my landlord off my back."
Bloomberg News, edited by Hospitality Ireland