Supermac's Boss Vows To Fight On Despite EU Setback
Published on Jan 28 2016 2:56 PM in Restaurant tagged: McDonald's / Supermac's / Newstalk / OHIM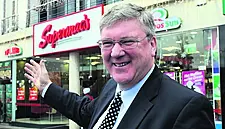 Supermac's boss Pat McDonagh (pictured) believes the fast food chain's European expansion plans remain alive despite the EU ruling that the Galway-based company cannot sell it's food in restaurants across the continent.
The decision, which did grant the Supermac's name a trademark in Europe, ruled the restaurant cannot use it's brand name to sell meat, hamburgers, poultry, fish, chicken nuggets or onion rings.
The EU Office for Harmonistation in the Internal Market found that the similarities with fast food rival McDonald's would cause confusion.
Two years ago McDonalds filed a complaint about Supermac's bid to trademark its name, as part of plans to expand into Europe.
In a statement, the company said it was pleased to have been awarded a European trademark.
"This is another positive step forward for Supermac's with our international expansion plans. We are confident that ultimately common sense will prevail on the part of the decision makers," read the statement.
"[We are] renewing our commitment to fair competition in Ireland and elsewhere and remain suspicious of the motivation of McDonald's in seeking to limit competition in the food sector," it added.