Supermac's Raises Upwards of €500k For Charity
Published on Dec 14 2017 11:59 AM in Restaurant tagged: Supermac's / Pat McDonagh / Loughrea / Trócaire / Éamonn Meehan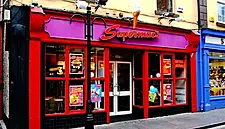 Supermac's managing director Pat McDonagh announced at a fundraising night hosted by the Loughrea Hotel and Spa that the Irish fast food chain has raised more than €500,000 for Trócaire since it started collecting for the charity close to three decades ago.
As reported by The Irish Independent, the money raised by the event at which the announcement was made amounted to €50,000 alone, with the proceeds coming from Supermac's customers, staff and suppliers, and being donated to Trócaire's charity works in Zimbabwe.
McDonagh said, "Both [my wife and fellow Supermac's board member] Una and I believe we can and should help where we can. We trust Trócaire and the approach they take. We know we are making a difference to the lives of ordinary people living in poverty and fear in Africa and beyond - mothers, fathers, children, grandparents."
Meanwhile, Trócaire executive director Éamonn Meehan expressed his appreciation to Supermac's staff and customers, saying, "For more than thirty years this support has helped to change the lives of people living in poverty and oppression in the developing world, as well as giving hope of a brighter future."