Top Chef Neven Maguire Shares Opinions On Work, Staff And Christmas
Published on Dec 12 2017 11:13 AM in Restaurant tagged: RAI / MacNean House / Neven Maguire / Cavan / Blacklion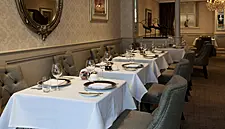 Award-winning chef Neven Maguire has revealed that he declined the opportunity to expand his restaurant business into London and Paris because the idea of presiding over a big catering empire never appealed to him.
The Irish Independent reports that Maguire, who runs MacNean House and Restaurant of Blacklion, Co. Cavan, asserted, "I have had requests to open up a restaurant in Dublin, London and Paris. I love going over to London for a couple of days, but I'm very content in the small village of Blacklion where I live. I was very polite. I always believed I could make it work in Blacklion. It's a beautiful part of the country."
He added, "With some chefs, one restaurant is never enough. But I want to look after what I have and to manage it the right way. I'm in the restaurant 90% of the time and I'm very proud of that. People love to meet you."
Maguire proceeded to speak out against established chefs who shout at their staff, saying that he believes such behaviour can discourage aspiring chefs from pursuing a career in the culinary industry.
He explained, "I want to encourage people and work on their abilities and have them enjoying their work. Life is all about learning. We all make mistakes. I think kitchens have gotten an awful lot better. It's kind of glamorised on TV with certain chefs, who I won't mention."
Commenting on the current shortage of chefs in Ireland, Maguire said, "We've all worked hard on our staff's hours. We want them to have a good life/work balance. The RAI reckon there is a shortage of 5,000 chefs in Ireland. Look after your team and your staff and treat them like family. That's what I learned from my parents."
When it comes to Christmas, Maguire urged people not to "feel guilty about enjoying the biggest meal of the year", saying, "I don't know how many calories are in the Christmas dinner because I'm not a dietician, but just enjoy the day and don't be worrying about it."