Top Chef Slams Mandatory Calorie Information
Published on Feb 6 2015 10:36 AM in Restaurant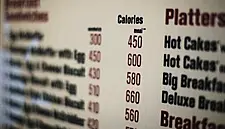 Michelin-starred chef Derry Clarke has spoken out against proposed mandatory calorie information on all restaurant menus, calling the measure "past ridiculous".
The proposed law will require all menus, including boards, leaflets, digital menus or other forms, to display the amount of calories alongside the price in the same font size and colour.
Clarke, speaking to the Irish Independent, echoed Bon Appetit's Oliver Dunne, who called it "nonsense", as it would be impossible to be accurate since menus and ingredients can change daily.
"If you want people to lose weight then tax sofas, tax TVs and laptops. It's not all about calories, it's about moving," said Clarke.
Health Minister Leo Varadkar said the said the law would be a "simple but effective way of encouraging people to choose a healthier option." The move comes in the wake of a recent report that showed two in three adults and one in four children are overweight.
The Restaurant Association of Ireland have also slammed the proposal, calling it a "nanny state" approach from the Minister. RAI Chief Executive Adrian Cummins said it would have a "devastating impact" on the restaurant industry and tourism.
"The introduction of calorie information on menus will have devastating effects on the restaurant industry, costing €5,000 on businesses and will have a knock on effect in other sectors," said Cummins.
However, the Royal College of Physicians has welcomed the move, saying it is a positive step towards tackling obesity.
"Evidence has shown that making people aware of calorie content can help them to make more informed, healthier decisions about the foods they eat," said Professor Donal O'Shea, a consultant endocrinologist at Loughlinstown Hospital's weight clinic and co-chair of RCSI policy group on obesity.
Currently only eight per cent of restaurants in Ireland display calorie information on their menus.