Top Soho Chef Plans Move to 'Booming' City of London
Published on Oct 7 2015 11:23 AM in Restaurant tagged: London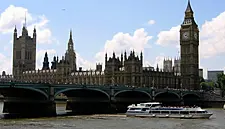 Anthony Demetre, one of London's most influential restaurateurs, is opening two restaurants near the financial district, and predicts more chefs will follow him to the City and East End.
Urban Coterieformally opens on 5 November on the 17th floor of the M by Montcalm, London Tech City hotel on City Road, serving modern English dishes such as Brixham crab, apple and celeriac, and custard tart and warm chocolate mousse with toasted rice ice cream.
"The City is great: look how many restaurants there are now," Demetre said in an interview. "I visited Duck & Waffleat 5am and people were queuing to get in. It is just staggering. And Jason (Atherton) is doing phenomenally at City Social. You are going to find a lot of restaurateurs migrating from the West End."
Demetre also plans to open a restaurant at the nearby Barbican arts center. It will be partly based on his Soho bistro, Arbutus. That was a game-changer when it opened in 2006 for its formula of fine dining on a budget. Other chefs followed suit. Demetre and his business partner also own Wild Honey, in Mayfair.
The head chef at Urban Coterie, which is already serving diners on a trial basis, is Martin Zahumensky, formerly of Texture and Hibiscus. Demetre said he aims to keep the food accessible and affordable, with mains costing less than £20 ($30) and a set lunch for about £25.
"I wouldn't exactly call it dude food," Demetre said. "It's sophisticated dude food, though I don't know a word for that. Competent cooking is making a comeback. Perhaps London is tired of dude food now. There are too many restaurants doing the same thing."
Several leading restaurateurs have opened in the City in recent years, including Gordon Ramsay, Jamie Oliver and Marco Pierre White, as well as Jason Atherton. West End establishments that have opened in the City include Hawksmoor and Goodman. Sushisamba and the 24-hour Duck & Waffle, both in the Heron Tower, are usually full, even at weekends, when the City has generally been quiet.
"The City is booming," Demetre said. "It is no longer a five-day week. It's seven days now. "I stayed at the Ace Hotel a couple of weeks ago and my god it is incredible round there." (The hotel is in Shoreditch, a short walk north of the City.) "The streets are packed. It reminds me of how Soho was when I worked there in the early and mid-90s. There are still quite a few unsavory characters around, giving it that edgy appeal. It's not that gentrified yet, as Soho is, but it is going that way. "
Urban Coterie and the as-yet unnamed Barbican restaurant are collaborations with Searcys, the hospitality company whose venues include Searcys The Gherkin, Searcys St. Pancras Grand and Gin Joint, the site that Demetre will take over in late November.
Story by Richard Vines, Bloomberg's Chief Food Critic