A Better Alternative
Published on Jun 10 2015 5:14 PM in Technology tagged: Packaging / catering / compostable material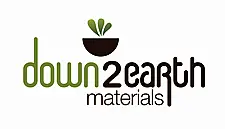 Down2Earth's certified compostable products are both eco-friendly and cost effective. Sales manager John Lynch talks to Hospitality Ireland about the company's range. Since its humble beginning...
Down2Earth's certified compostable products are both eco-friendly and cost effective. Sales manager John Lynch talks to Hospitality Ireland about the company's range.
---
Since its humble beginnings in 2009, Down2Earth Materials has become Ireland's most trusted source of compostable products for businesses of all sizes. With headquarters in Cork, the company operates nationwide, working with distributors and composting facilities across the country, under its parent company Southern Tapes and Packaging.
Down2Earth Materials offer cafés, restaurants and other businesses an alternative to regular food packaging that is not only environmentally friendly, but will save businesses money in their waste costs. Custom- made hotcups, food containers and cutlery are just some of the products that the company offer, all of which are made from plants and are certified compostable.
"That's something we emphasise to businesses," says John Lynch, Senior Sales Manager and Recycling Consultant. "While there's nothing to stop people saying their products are biodegradable, to sell something that's stated as 'compostable', you need certification."
Down2Earth Materials supply packaging that is compostable and easy to dispose of, cutting out needless waste that regular packaging can cause. "If you go to a cafe that's using an oil-based hotcup, the paper cup and the polyethylene lid are only recyclable separately, when they're together they end up in landfill because there's no company in Ireland (and only two in the UK) that have the facility to separate the two. So they'll be there for a couple of years... or a couple of thousand years."
Working alongside Cré, the Irish Composting Association, Down2Earth Materials ensure all their- products meet these legal requirements to be certified compostable. For this, the products must biodegrade within 12 weeks, and typically their products break down within six to eight weeks.
The company has been recognised for their efforts in recent years, most recently winning the Repak -Sustainable Packaging Award in 2014, the highest accolade a packaging company can receive in Ireland. Before that, it was awarded for Outstanding Contribution to the Sector by Cré in 2013, and was a finalist in the Green Awards 2013 for Small Organisations.
The company is reducing the pressure on landfills in Ireland, last year diverting over 18,000 kilograms of waste from landfills. Businesses, says John, are becoming more aware of these environmental issues.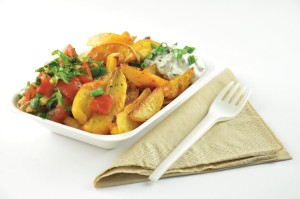 "There's a movement away from people putting products into landfills. Our products don't create waste, they are actually a resource. Our products are converted to compost in Ireland. And that's big, because the compost is spread on agricultural land – which very much closes the loop."
The benefits that Down2Earth Materials' customers have seen go beyond the environmental. The company has worked with large operations such as Clare County Council, the Cliffs of Moher Visitor Centre and Intel in Co. Kildare but also with local cafés and restaurants such as the popular The Rocket Man salad bar in Cork.
The company's flexibility to work with small and large volumes means that businesses benefit from its short turnaround supplying materials. The custom-printed cups, the company's most popular item, are designed, printed and delivered in two-three weeks. The cups have proved a hit with outlets due to their unique and dynamic designs. Once the products are in the kitchen, they save time and money for the business. No oil means no fuss cleaning, separating and recycling packaging.
Instead, all the used cups, cutlery and food containers can be thrown out along with the food waste. "From a chef's point of view, it's very sustainable. A chef can order potatoes, carrots, tomatoes, et cetera, knowing that everything is certified compostable and can go into the food waste bin," says John.
Not only does this save time, it is also the cheapest way to dispose of food waste packaging. Disposing of waste in composting sites represents a saving of 40%-45% compared to high landfill gate fees in Ireland. John has noticed the shift in attitudes when it comes to sustainability in the workplace. "In the last year a lot of cafés and restaurants are opening, and they're looking to put their product into something that's not only premium packaging, but is sustainable as well.
So when they see the benefits of using a certified compostable packaging it really is a win-win situation. They're putting less pressure on landfills, they're using something that's made here in Ireland and is supporting Irish jobs."
There are benefits for consumers also, as pay-by-weight waste collection will be introduced to Irish households in the next year. Consumers can put all their food waste into the brown bin, saving them money on household waste.
"We work closely with all our partners and customers to ensure that all our products are certified compostable within six-eight weeks. The whole process has to be closed-loop and sustainable," concludes John. Catering to over 400 businesses around Ireland, Down2Earth Materials looks set to continue this year on a strong 2014 by delivering on that promise.