Aramark Launch Culinary Inspiration Series
Published on Apr 9 2015 9:41 AM in Technology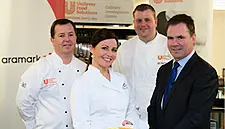 Aramark, the global provider of food, facilities and property services have teamed up with foodservice operator Unilever Food Solutions to launch a new culinary inspiration series.
The new series, called Bright Star, will see see nine hand-picked delegates, chosen by Aramark from their culinary development team, take on nine monthly sessions specially designed to inspire delegates through a series of food tours and interactive master classes.
Aramark, in conjunction with its industry partners Unilever Food Solutions, will deliver the hands-on experience from its dedicated Chefmanship Centre in Greenogue, Dublin.
The chefs will work with some of Aramark's top producers, suppliers and ingredients. In the sessions, they will learn about food for the health conscious, provenance and seasonality, culminating in a graduation ceremony and gala dinner prepared by the graduating delegates at Croke Park in November.
At the launch, Frank Gleeson, Managing Director of Aramark Food Services said: "At Aramark, we are committed to delivering experiences that enrich and nourish lives every day, which is in line with our overall ethos.
"We recognise the value in increasing the knowledge and expertise of the current generation of Aramark chefs today so that they can become our culinary leaders of the future."
Derek Reilly, Culinary Director at Aramark, added: "We have some incredibly talented chefs and we are keen to continue nurturing and growing their talent. Our chefs have the opportunity to work with some of the industry's most inspirational figures – whether chefs, producers or suppliers – we are helping them to develop their skills set and bring these new skills to life in the kitchen."