Just Eat Invests In A Number Of Food Technology Start-Ups
Published on Nov 16 2016 10:03 AM in Technology tagged: Just Eat / CityMunch / Fanceat / Go Cart / Nutrifix / Share Dining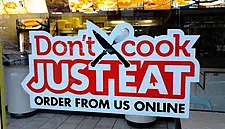 Online takeaway service Just Eat has named the first five start-up organisations that will receive £20,000 investment from a new initiative designed to help entrepreneurs make an impact in the food technology industry.
As part of the deal, Just Eat will own 5 per cent of the start-ups CityMunch, Fanceat, Go Cart, Nutrifix and Share Dining with the aim of helping them grow long-term, reports Eatoutmagazine.co.uk. As part of the deal, the start-ups will attend a ten-week programme that will involve one-to-one support, networking events and introductions to partners.
The start-up offerings include real-time restaurant deals, delivery of chef-prepared meals, help identify meals by analysing a customers lifestyle and help use up available kitchen capacity with other businesses.
Stuart Mainwaring, head of corporate ventures at Just Eat, said: "The five start-ups we've chosen demonstrated the exceptional creativity, innovation and growth potential to stand out from a really strong crowd. We're delighted to have them on board and have an action-packed schedule for them over the coming weeks to help them on their journeys towards becoming outstanding food tech companies."