Paul Costelloe launches exclusive 'Linen' Collection at Harvey's Point
Published on Jul 10 2015 9:47 AM in Hotel tagged: Harvey's Point / toiletries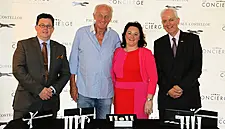 Irish Fashion designer Paul Costelloe was in attendance at the dual launch of the luxurious 'Linen' Collection and the exclusive hospitality business, The Concierge, at the world famous 4-star Harvey's Point in Donegal.
The Linen Collection of guest amenities is the first of its kind to be created by Paul Costelloe catering solely for the hospitality industry in Ireland. Paul Costelloe and The Concierge have worked closely together to design and develop this elegant toiletry range, taking inspiration from the Irish designer's humble beginnings at a small linen factory in Dungannon.
Costelloe spoke about the Collection at Harvey's Point. "This luxurious toiletry range is crisp, fresh and evokes a feeling of walking on a breezy summer day."
The picturesque Harvey's Point has been one of the first 4 Star hotels to embrace this Irish born brand of amenities with Kathleen Heraghty, Operations Manager commenting: "The Linen Collection by Irish designer Paul Costelloe was introduced to Harvey's Point in February of this year. We have strived to provide our guests with a luxury range of guest amenities by promoting the Irish brand to all our guests. Having worked with Siobhan Rushe (sales executive) for the past 11 years we are delighted to be the first hotel in Donegal to provide this new exclusive product by Paul Costelloe."
The launch at Harvey's point also showcased The Concierge, the pioneering hospitality service that satisfies the distinct and exclusive needs of luxury hotels across Ireland. Offering a lavish range of products including the Linen Collection by Paul Costelloe, the Concierge endeavours to bring hotels a bespoke and unprecedented offering to the Irish hospitality industry.
Alan Blaney, General Manager of The Concierge commented:
"We are proud to be launching both of these new luxury brands in the wonderful setting of Harvey's Point in Donegal Town where we have been supplying their guest amenity and bespoke product requirements for many years. Harvey's Point was the first of our customers to commence with the Linen Collection by Paul Costelloe in their guest rooms, and thought it only fitting to invite Paul to join us for the launch of his own brand of toiletries".
The Linen toiletry range can be enjoyed at selected luxury Hotels around Ireland.