Irish Importers Wooed by Germany's Best Alcoholic Drinks
Published on Jun 12 2015 3:29 PM in Drinks tagged: Germany / Suppliers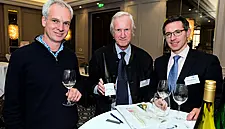 Some of the top beers, wines and spirits from Germany were on show at the German-Irish Chamber's Tasting Event at the Westbury Hotel in Dublin this week.
Four German breweries, a distillery, a cider producer, a winemaker and a wine curator, many of whom have national and international accolades, were in Ireland this week on a trade mission to present to the drinks trade here, which includes importers, retailers, restaurants and sommeliers.
Organisers have said there has been a "great response from the Irish side to the trade mission" and over 50 meetings for the German companies took place in Irish businesses nationwide over the course of this week.
One such high potential partner is Kevin McParland from Irish Pubs Global, whose organisation represents more than 1000 pub members in Ireland and 300 Irish pubs in Germany.
"The German drinks companies had some very high quality as well as interesting products. I strongly believe we can develop sales and connections for the excellent companies we met and the high quality products they produce," he said.
This is the third event for German drinks producers run by the German-Irish Chamber of Commerce in Dublin in as many years.
"We focussed exclusively on wine in the last two years and successfully supported 16 German vineyards in their quest to find partners in Ireland," according to Ralf Lissek CEO of the German-Irish Chamber of Industry and Commerce. "We believe the time is right to open it up to beer and spirits as well, given the way the industry in Ireland is going at the moment, with a move towards craft drinks and away from big brands. We are very confident of the prospects for these eight German companies in the Irish market."
The German wine companies present said they're very determined to prove that Germany offers wines that rival those of neighbouring France and Italy, and that out-dated perceptions about German wine need to change.