Whitbread Sales Boosted By Premier Inn and Costa
Published on Jun 16 2015 3:47 PM in Hotel tagged: Whitbread / Costa / Premier Inn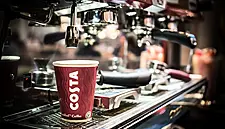 Whitbread, the UK's largest hospitality company, has posted strong first quarter results as sales were up on the back of high demand in its Premier Inn and Costa Coffee brands.
The company, which also owns the UK's largest hotel brand Premier Inn as well as Beefeater Grill, Brewers Fayre, Table Table and Taybarns, recorded a 4.3 per cent increase in underlying group sales for the first quarter, which were in line with expectations.
Sales did show a slight slowdown compared to the same period last year when the company posted a 6.5 per cent increase. Outgoing chief executive Andy Harrison, however, called this downturn a "blip" and said that the 14 and 17 per cent increase at Premier and Costa respectively showed a "continuation of the very strong momentum we saw last year".
Whitbread's stock market value has increased fourfold during Harrison's five-year tenure, and the company is now worth £10 billion. Harrison will step down in December to be replaced by Alison Brittain, who will step in as CEO designate in September.
Whitbread operates over 670 Premier Inn hotels in the UK, Ireland and internationally and over 3,000 Costa Coffee outlets worldwide.