Number of Hotel Rooms Available on the Decline
Published on May 5 2015 2:27 PM in Hotel tagged: Dublin / IHF / Accommodation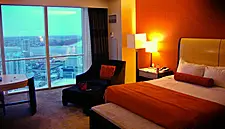 Figures released by Fáilte Ireland have shown that the number of hotel rooms available in the country continues to fall, despite a growing demand for accommodation.
Amid numerous news stories about increasing visiting numbers and hotel sales, the Irish Examiner reports that there are 13 fewer hotels now than this time one year ago, with 500 fewer beds.
There are now 798 approved hotels in Ireland, a decline of almost seven per cent since 2012, when there was 856 hotels registered.
In the capital, where demand is at its highest, the number of hotels dropped by four in the last year. The number of five-star hotels in Dublin remains at ten while four-star hotels increased by one to 279. Most of the closures have been in the two- and three-star categories.
Despite a strong year for Irish hotels, the IHF recently warned that about one third of establishments won't make a profit in 2015, especially in rural Ireland.