Chef Scores With London Wine Bar as He Opens New York Restaurant
Published on Jul 15 2015 9:50 AM in Restaurant tagged: chef / London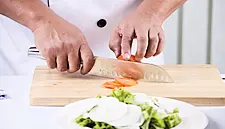 Is it July already? I must have missed several new restaurants by Jason Atherton.
The chef adds venues to his empire with the kind of speed that Gordon Ramsay fills sentences with expletives.
In recent weeks, Atherton has opened the Clocktower in New York and Social Wine & Tapas in London. He is about to open his first restaurant in Sydney and a Japanese establishment with a hip-hop bar in London's Clerkenwell. After that, it is Dubai.
(He's just published a book, Social Sweets, and travels constantly to his three establishments in Singapore, three in Hong Kong, and two in Shanghai. His London tally is seven.)
All this is so tiring to contemplate, I need to take a seat at the bar of Social Wine & Tapas. That's the British chef's new outlet in Marylebone, which is also home to Chiltern Firehouse and is rapidly becoming a destination for diners.
Each place Atherton opens is distinct (names aside). Social Wine & Tapas represents his first attempt at, well, wine and tapas. This is a competitive field in London. Chef Nieves Barragan has just won UK restaurant of the year for Barrafina; and the Salt Yard Group has fine venues such as Ember Yard and Opera Tavern.
If you wonder what Atherton can bring to the party that is new, the answer is Laure Patry, the sommelier who has been with him for more than a decade. She is one of the heroes of his group, the Social Company, and here takes charge of her own venue.
This is the first Atherton establishment that isn't chef- led. There's a separate wine shop, and you could happily spend an afternoon (as I have done) exploring the wine list without bothering too much about the food. Fortunately, the food holds its own against the existing competition. It is very good.
Head Chef Frankie Van Loo previously worked with Atherton at Pollen Street Social and Social Eating House. The menu covers the usual Spanish bases—padron peppers, ham croquettes, a selection of hams—but then becomes more catholic, like a Graham Greene hero.
The cheeses are British; the chipirones are Sichuan-spiced; raw Orkney sea scallop comes with yuzu (Asian citrus fruit) and togarashi (Japanese seasoning); chargrilled carrots and burnt aubergine are served with miso. But we shouldn't be surprised.
Atherton—who has a season at El Bulli on his résumé—created Maze for Ramsay in 2005. That restaurant was a game-changer, serving French food with an Asian twist by way of Spain. Social Wine & Tapas is more restrained, but the DNA is there.
The venue is on two floors, with a bar at street level and the main dining room in the basement. Downstairs is more buzzy and fun. There are great simple dishes, such as grilled sardine, whose flavor is picked out with citrus yogurt rather than lemon.
Norfolk suckling pig is served with roasted caramel and sherry caramel. Broccolini comes with chilli, pear, and air- dried tuna. The flavors are bold, yet balanced. Often there is a twist and still the focus remains on the quality ingredients.
That's evidenced by dishes such as the heirloom tomato salad, truffle burrata, basil, and gazpacho vinaigrette. It's fresh and colorful, yes, but it's about flavor, not frippery.
Only on a couple of dishes does the seasoning go awry. I'm thinking particularly of the salty guacamole served with the juicy rose veal and foie gras burgers with pulled pork.
Otherwise, everything is spot on.
But my first love is the wine list, which promiscuously wanders Europe like a backpacker on a rail pass. There are flights (of fancy) too, including a trio of chardonnays for £27.50.
Atherton makes it all look so effortless. Social Wine & Tapas is another "Oops! ... I did it again" restaurant.
Richard Vines is the chief food critic for Bloomberg.