Face2Face - Stephanie Roche
Published on Jun 10 2015 12:11 PM in Features tagged: Stephanie Roche / Face2Face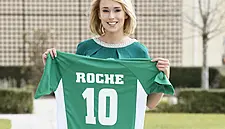 Hospitality Ireland speaks to Stephanie Roche, striker for the Irish national team who shot to fame after her wonder goal for Peamount United earned a runner-up in the 2014 FIFA Puskas Award for best...
Hospitality Ireland speaks to Stephanie Roche, striker for the Irish national team who shot to fame after her wonder goal for Peamount United earned a runner-up in the 2014 FIFA Puskas Award for best goal of the year.
---
What has been your inspiration in life?
I think the main person who has inspired me would have to be my dad. He's been there through good times and bad throughout my football career, as have my mam, two brothers and sister, but he's the one who's always told me to stick at it and really gave me the confidence to be a better player
Your best career decision?
I think I'd have to say cancelling a holiday when I was 18 to play in the Gaynor Cup with Leinster. All my friends went on the holiday and had a great time while I went to Limerick to play the tournament. I had a great tournament and it was there that Sue Ronan saw me play and invited me for trials for the U19's Irish team. The rest, as they say, is history!
An attribute do you wish you had?
I'm really bad at remembering people's names. I'm not rude – I just often get a mental block when it comes to names!
Your favourite pub/restaurant/hotel?
I'm very fond of my local pub – Brady's in Shankill. They hosted a huge party for my family and friends to watch the Ballon D'Or Ceremony. Everyone said it was like watching Italia 90 all over again. I also love Castleknock Hotel and Country Club, part of FBD Hotels & Resorts, for whom I am a proud ambassador for 2015
Favourite holiday destination?
Las Vegas – I've been several times and I love it, especially the shopping. The last few times I
was there for 'Black Friday;' the shops were open 24 hours and my poor bank card didn't know what hit it!
Your worst job?
Any job that didn't involve playing football was tough because all I wanted to do was to be out on a pitch doing that full time
If you could do any other job apart from the job you are doing now what would it be and why? I'd like to coach kids and I hope to become a coach after I finish playing professionally, as I'd like to give something back in a way
Your business motto?
Work hard, play hard! And sometimes dreams do come true.
The best advice you ever received?
I was always taught to respect others
One thing you always have in your refrigerator? Milk Your recipe for a successful restaurant? A good selection on the menu, comfortable surroundings and friendly staff
What do Irish restaurants do best?
They cater for fussy eaters! Sometimes going out for dinner with my family is a nightmare, as some of them are so fussy when it comes to food, but I've found Irish restaurants are great when it comes to being able to accommodate people and change things around without any hassle
What could they do better?
Improve the selection of healthy options on the menu. There is a massive focus on nutrition and maintaining a healthy balanced diet for me in my job. However sometimes it can be very difficult to find a regular restaurant that serves brown rice/pasta or quinoa. I'd love to see choices like this on a menu becoming a bit more mainstream
Are Irish people good restaurant customers?
We are and we aren't. We hate causing a fuss so instead of making a scene in a restaurant, we say nothing but then bad-mouth the service or food to friends without giving the restaurant a chance to sort it out. Although harsh, valuable feedback is sometimes crucial for continuous improvement and maintaining a high level of quality and service
Your death row meal?
My granny's Irish stew. I haven't had it in a while but it's unbeatable – pure perfection on a plate
The most enjoyable part of your career?
Getting to do something that I love everyday. My job never feels like work because it's something I enjoy and I'm truly passionate about
Your biggest disappointment to date?
I suppose not winning the Puskas Award was a massive disappointment. I'm a sportsperson so I wasn't just there for the dinner, I wanted to win the award!
Complete this sentence:
Nothing is more important than ... family and friends.