London's Top Chefs Share Their Secret Local Dining Hangouts
Published on Jul 3 2015 10:34 AM in Restaurant tagged: Featured Post / chef / London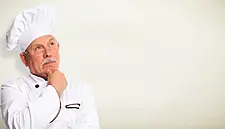 London's leading chefs cook some of the best gourmet food in the world. But which are the local restaurants where they keep going back on their day off?  Richard Vines, chief food critic for Bloomberg...
London's leading chefs cook some of the best gourmet food in the world. But which are the local restaurants where they keep going back on their day off?  Richard Vines, chief food critic for Bloomberg, polled a number of them, and here's what they had to say.
Tom Aikens (Tom's Kitchen): "The Electric in Notting Hill. We go on the weekends as it's good for kids. It's relaxed, informal and fun, and the food is good."
Nieves Barragan (Barrafina): "Franklins in East Dulwich. I like to go there for Sunday lunch. You can have a really good beer and amazing meat or fish."
Michel Roux Jr. (Le Gavroche): "The Abbeville Kitchen in Clapham. They just do very good wholesome cooking. I like to go with my dad [Chef Albert Roux]. Last time we had a roast chicken to share. It was a damn good chicken properly roasted with damn good roast potatoes. It's just perfect for Sunday lunch rather than cooking at home."
Tim Allen (Launceston Place): "Madhu's at Heathrow. The grilled meats are exceptional, especially the lamb. The robata grill and marination process makes the flavor immense."
Claude Bosi (Hibiscus): "Abbeville Kitchen is local to us in Clapham. It's an ideal neighborhood restaurant for weekend lunches. They are a group of young chefs doing great home cooking from the heart, inspired by what's fresh at the market."
Tomos Parry (Kitty Fisher's): "Som Saa at Climpson's Arch. The food is excellent, and all the staff are great. I used to be the chef there before I handed over to Andy (Oliver). I always enjoy going back."
Amandine Chaignot (Rosewood London): "Mazi in Notting Hill. They have wonderful Greek food, a great atmosphere, and are always very welcoming. It's around the corner from my home, so I love popping in there."
Marcus Wareing (Marcus): "Chez Bruce. It's walking distance from home, and I love the menu and thefood. Excellent service, and now that the kids are all old enough to sit down for a whole meal, I love to take the family there."
Lee Westcott (Typing Room): "St. John Bread & Wine. They serve great food at a great price in a very casual atmosphere. It's perfect."
Helene Darroze (Helene Darroze): "The Great British Mayfair Fish & Chip Restaurant [soon to be known as the Mayfair Chippy]. It's a little place on North Audley Street where you have nice fish and chips."
Anna Haugh (London House): "Soif. I love what they are doing. It's really simple, good food. When I was young, mum had a cheese fondue set, but she never used it. I used to beg her. I went into Soif, and they had a fondue for two. I nearly lost my mind."
Ruth Rogers (River Café): "Al-Dar Lebanese on King's Road. It's absolutely splendid. It is very good quality, everything is delicious and well-seasoned—not too heavy—and the restaurant is as clean as you could imagine."
Dan Doherty (Duck & Waffle): "Goodman Canary Wharf. The food is solid, and the service is some of the best in London."
Angela Hartnett (Murano): "St. John Bread & Wine. It's just round the corner, and I've been going there for years. It is consistently good every time, and it's good to support somewhere local."
Tony Fleming (Angler): "The Anchor in Ripley, by Steve Drake. Simple but delicious cooking. Food as it should be: a lovely little restaurant in a beautiful village."
Monica Galetti (MasterChef): Regional Thai Taste. It's a great family-run Thai, and Chim uses recipes from her mum."
Jason Atherton (Pollen Street Social): "Atari-Ya. It's a little sushi shop. It's cheap as chips, and the sushi is fantastic. It looks nothing special. There's hardly anywhere to sit, and everyone is Japanese. I go there a lot with my family."
Andre Garrett (Andre Garrett at Cliveden): "The Coach in Marlow. I've been almost once a month since it opened. It has a lovely pub feel and is run by a friend of mine."
Skye Gyngell (Spring): "The Brackenbury. It's a golden oldie and just the epitome of a local restaurant. I love eating there."
Anna Hansen (Modern Pantry): "Hood in Streatham. It's a great place to go for brunch. They are family friendly and very gracious. Nothing is a problem. They do an amazing short-rib hash."
Judy Joo (JinJuu): "Providores. Peter Gordon's food always hugs me back. I love the breakfast in particular."
Simon Rogan (Fera):"Il Calcio in North Audley Street. I always order their truffled spaghetti and grilled calamari. It's more than a Bolognese-old-fashioned Italian: The food is excellent, and overall it's relaxed, cosy, and friendly. A perfect local."
Tom Kerridge (Hand & Flowers):"The Hinds Head, in Bray. It's not too far from my home, and thefood is simply beautiful. It's of a consistently high standard."
Karam Sethi (Gymkhana): "Colbeh. It's a local Persian place off Edgware Road. I like everything from the bread and the small dips through to the lamb kebab, which is the specialty."
Thomasina Miers (Wahaca): "Craft. Stevie Parle is one of the most interesting chefs around, and he uses great ingredients."
Pierre Koffmann (Koffmann's): "Hereford Road. It's family- style cooking with simple ingredients properly cooked. Another of my favorites is A. Wong. It's modern Chinese. He likes to experiment with different ingredients. It's very good."
Marianne Lumb (Marianne): "Hereford Road. I love the fact the food is hearty and seasonal and intelligently cooked. It's honest food at an honest price, and there are lots of very well- priced wines by the glass."
Nuno Mendes (Chiltern Firehouse): "Rawduck. I go there a lot. It's all small plates, and the wines are amazing. I like places that evolve throughout the day. You can go there for a sandwich or eggs at breakfast, and in the evening, the anchovy toast is amazing."
Allegra McEvedy (Blackfoot): "The Brackenbury, Ossie Gray's place, is right around the corner: calm environment, lovely team, and great food cooked by the lovely Humphrey Fletcher, ex- River Caff, bien sur! Cracking wine list, and the lovely little Negroni on arrival is a must."
Sophie Michell (Pont St): "Colbert. I go there all the time because it is failsafe, and I always have steak tartare with endive salad, [with] a good bloody Mary on the side."
Helene Puolakka (Company of Cooks):"Hereford Road for the simplicity of the food and the seasonality. It's a very adult place. I take the kids to Granger & Co. It's really friendly."
Ben Tish (Salt Yard): "The Typing Room in Bethnal Green. It's a great space, and the food is really up there. I'm not normally into that type of food, as it can be underwhelming—style and obscurity over flavor—but this place has it all. It's also got a wonderful natural-wine list, and it's good value."
Kim Woodward (Savoy Grill): Sushi Salsa on Camden Lock. It's consistently good, which is important. I like all the sushi. To be honest, there isn't a wide range of local restaurants in Camden, where I live."
* Richard Vines is the chief food critic for Bloomberg.