Aer Lingus Named One Of The World's Safest Low-Cost Airlines
Published on Jan 9 2017 12:47 PM in General Industry tagged: Ryanair / Aer Lingus / Qantas / AirlineRatings / World's safest airlines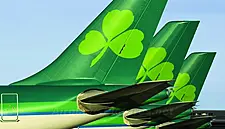 Aer Lingus has been named one of the world's safest low-cost airlines for 2017 by safety and product rating website AirlineRatings.com.
The awards, which were launched in June 2013, take into account factors such as audits from aviation's governing bodies and lead associations; government audits; airline's crash and serious incident record; profitability and fleet age.
AirlineRatings top 10 safest low-cost airlines, in alphabetical order are: Aer Lingus; Flybe; HK Express; Jetblue; Jetstar Australia; Jetstar Asia; Thomas Cook; Virgin America; Vueling; and Westjet. Each of the airline's have passed the International Air Transport Association Operational Safety Audit (IOSA) which has over 1000 audit items. Australia's Qantas airline was named the world's safest airline.
Geoffrey Thomas, the site's editor-in-chief said that Aer Lingus "continues to have an excellent safety record and has never had a jet fatality", reports The Irish Independent, while Ryanair has a safety rating of 5 out of 7 stars since it hadn't completed the IOSA said the website.
A spokesperson for Ryanair commented: "Ryanair's industry leading 31-year safety record speaks for itself. This airline ratings survey excludes non-IATA members, which is why Ryanair and Easyjet, amongst others, were not included in it." However, Thomas said this was not the case, replying that "over 144 non-IATA members have completed IOSA".