CityJet Founder 'Flabbergasted' That Merger With Stobart Air Called Off
Published on Dec 7 2016 9:34 AM in General Industry tagged: Ryanair / Aer Lingus / Stobart Air / CityJet / Pat Byrne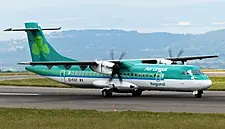 The planned €80 million deal to merge CityJet and Stobart Air has been called off with the executive chairman and founder of CityJet, Pat Byrne, stating that he is "flabbergasted" that it fell through.
Byrne said that around €1 million had been spent furthering the merger and that Stobart ultimately let the deadline for the deal expire, adding that "you are either getting married or you're not, you don't want to be left waiting at the altar", reports The Irish Independent.
Described by Byrne as a "very good fit for all parties concerned", he commented that CityJet will "continue to develop our aggressive growth strategy in Europe", while Stobart said that "the board has concluded that the agreement with CityJet is not in the commercial interest of the group".
Stobart added that its Aer Lingus Regional Services will continue to grow and that it plans to further develop its services at London Southend airport.
Meanwhile, Ryanair has seen its traffic grow by 15 per cent to 8.8 million customers and its load factor increase to 95 per cent for November. Ryanair's Kenny Jacobs commented that "Customers can look forward to even lower fares when they make advance bookings for summer 2017, so there's never been a better time to book a low fare flight on Ryanair".