Dublin Airport Has Record Year Welcoming 28m Passengers
Published on Jan 12 2017 2:46 PM in General Industry tagged: Dublin Airport / Terminal 2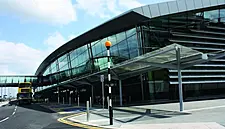 Dublin Airport had a record-breaking year as passenger numbers grew by 11 per cent to 27.9 million last year, more than four times the population of the island of Ireland. It beat the previous record, which was set in 2015, by more than 2.8 million passengers.
The airport's short-haul traffic increased by 11 per cent last year to almost 24.3 million passengers, while long-haul passenger numbers grew by 12 per cent to more than 3.6 million. Its strong growth in passenger numbers was due to expansion from almost all of Dublin Airport's major airline customers.
Passenger traffic to and from continental Europe, the airport's largest market segment, increased by 11 per cent to a record 14.2 million in 2016, while the number of passengers travelling between Dublin and British destinations also reached record levels, rising by 12 per cent to 9.9 million.
Transatlantic traffic was Dublin Airport's fastest-growing segment of the market last year, seeing a 16 per cent increase to 2.9 million passengers compared to the previous year, while traffic to the Middle East and Africa declined by 3 per cent.
"Dublin Airport had a very strong performance in 2016. We had double-digit growth across all of our largest market segments and welcomed new routes and new airline customers. The millions of extra passengers who passed through Dublin Airport in 2016 helped deliver a record year for Irish tourism. Significant additional connectivity at the airport also helps to boost business between Ireland and its trading partners and underpins increased foreign direct investment in Ireland," said managing director Vincent Harrison.
He added: "Last year was the sixth-consecutive year of traffic growth and in the period since the opening of Terminal 2 in 2010, Dublin Airport's annual traffic has increased by almost 9.5 million passengers from 18.4 million per year in 2010 to 27.9 million in 2016."