EU Concerns Could Delay IAG - Aer Lingus Deal
Published on Jun 24 2015 2:20 PM in General Industry tagged: Aer Lingus / IAG / EU Commission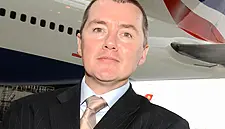 An EU watchdog has raised concerns over the proposed takeover of Aer Lingus by British Airways parent group IAG.
The EU Commission has questioned whether the deal conflicts with competition laws, should the €1.4 billion takeover go ahead. The concerns by the EU Commission's competition law directorate could delay the agreement by some time.
According to the Irish Times, the watchdog is concerned that an IAG takeover of Aer Lingus could hamper competition in the market for valuable landing and take-off slots at London's Heathrow Airport.
IAG officials, including boss Willie Walsh (pictured), negotiated with the Irish Government for more than three months to reach an agreement before the State would sell its 25.1 per cent stake in Aer Lingus.
The Government sought assurances from IAG that Aer Lingus would retain ownership of its slots and that they would continue to be used to serve routes between the Republic and Heathrow for seven years.
The Commission raised its concerns in a so-called "state of play" meeting, meaning it has issues with the deal. IAG will need to respond to those issues raised in the next few days.