Film Tourism Prompts Potential Direct Route From Dublin To Beijing
Published on May 23 2017 1:51 PM in General Industry tagged: Game of Thrones / Tourism Ireland / Niall Gibbons / Skellig Michael / Star Wars / Disney / HBO / Yue Xiaoyong / Hainan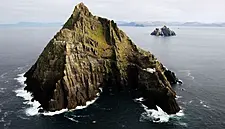 Following the news last week that Tourism Ireland CEO Niall Gibbons was pushing for a direct flight route between Ireland and China, it now appears that a deal to secure such a route may be only weeks away from being concluded.
The Sunday Independent has revealed that senior executives from Chinese airline Hainan have scheduled a discussion for June in Dublin about potentially creating an aerial route between the Irish capital and Beijing that would also encompass Edinburgh twice weekly.
Along with Gibbons's assertions last week that a direct flight from Ireland to China is vital, Chinese ambassador to Ireland Dr. Yue Xiaoyong proclaimed that Ireland requires more hotels to accommodate increasing numbers of Chinese tourists, many of whom are being drawn to the country to see sights featured in popular movies and TV shows, such as Skellig Michael, which appears in Star Wars Episodes VII and VIII and recently reopened to tourists, and parts of Northern Ireland where Game of Thrones is filmed.
The rising popularity of such locations has prompted Tourism Ireland to enter into a new licensing agreement with HBO, the network that airs Game of Thrones in the US, to coincide with the July premiere of the seventh season of the famous fantasy series. According to Gibbons, the deal is similar to an arrangement made with Disney concerning Star Wars tourism, but it has yet to be revealed what exactly the agreement entails.