Hospitality Ireland Presents Round-Up Of Aer Lingus News
Published on Nov 11 2021 11:21 AM in General Industry tagged: Trending Posts / Aer Lingus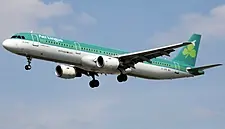 Hospitality Ireland presents a round-up of Aer Lingus news.
Fighting Irish Return Home to Boost Irish Economy
In a statement published on its website, Aer Lingus said, "Organisers of the Aer Lingus College Football Classic have today announced details of the second game in the five-game series, which will see Notre Dame host Navy on Saturday August 26th, 2023 at the Aviva Stadium Dublin. The announcement comes ahead of the clash of the two teams this weekend in South Bend, Indiana.
"The 2023 game will be the first time that Notre Dame will move a home game to Ireland and with 40,000 US fans expected to travel, the game is set to provide a major boost to the country. Grant Thornton and Failte Ireland economists have calculated the 2023 fixture to be worth €147m directly to the Irish economy. The 2023 fixture is scheduled for week zero and will be the opening game for the 2023 College Football Season. The Game will be broadcasted by NBC with an expected TV audience more than ten million viewers.
"The teams previously met in Dublin in 2012, with Navy hosting Notre Dame in a sell-out fixture which saw 35,000 US visitors travelled to Ireland to watch Navy V Notre Dame – a world record of US fans to travel outside the US for one singular sports event, greater than any Ryder Cup or World Cup. The game proved to be a major catalyst in the ambition to make Dublin the home of College Football outside of the US and utilize the fixtures to further strengthen business and academic ties between Ireland and the US.
"After cancellations in 2020 and 2021 due to the pandemic, the five-game series kicks off next year with Northwestern University (Wildcats) taking on the University of Nebraska (Cornhuskers) in the Aviva Stadium on Saturday, 27 August 2022. The first opportunity to purchase tickets for the 2022 game will be during the official pre-sale on Friday 19th November 2021. You can register your interest in tickets at CollegeFootballIreland.com.
"Taoiseach Micheál Martin commenting on the announcement: 'The past year and a half have been challenging for us all in Ireland and the United States. Today's announcement that Notre Dame will play its first-ever home game in Ireland against Navy is extremely exciting and welcome news. The movement of this game to Ireland will provide a significant boost to our tourism and hospitality industries. We will have a very special welcome ready for the teams and supporters of Notre Dame and Navy when they visit us for the Aer Lingus College Football Classic in August 2023.'
"Speaking about the announcement Lynne Embleton, CEO of Aer Lingus, said, 'Today's announcement is a significant one for the Aer Lingus College Football Classic - it is great to see such momentum in the series which we know will help put Ireland, and indeed Aer Lingus, in the hearts and minds of college football fans right across the USA. With international travel so curtailed for the last 20 months, we believe that there is huge pent-up demand for travel now that boarders are reopening. And a Notre Dame-Navy fixture in Dublin provides US football fans with the perfect excuse to travel to Ireland. All of us in Aer Lingus are looking forward to welcoming families, friends, businesses, colleagues - and sports fans - on board.'
"Lord Mayor of Dublin Alison Gilliland said, 'I am delighted to hear this news that Notre Dame and Navy will return to Dublin in August 2023 for the second game of the five-game Aer Lingus College Football Series. It is a huge honour for Dublin to host the opening game of the 2023 College Football Season and to give Irish fans the opportunity to witness the sporting talents and colour of American College Football. I welcome back the 40,000 Notre Dame and Navy fans to Dublin and Ireland and look forward to joining with them in following their teams as they get look to get their 2023 season off to a flying start.'
"Minister for Tourism, Culture, Arts, Gaeltacht, Sport and Media Catherine Martin TD: 'I am pleased to welcome the news that the Aer Lingus College Football Classic will take place in Dublin in 2023. This is the second fixture in a planned five-game series and on behalf of Government, I was delighted to be in a position to provide the public funding needed to secure the event. Large scale events such as this are an important part of driving tourism demand because they provide international and domestic visitors with a compelling reason to choose Dublin. Having also visited the US recently as Minister to deliver the message that Ireland is open again, I know the excitement among fans about being able to visit our shores.'
"Padraic O'Kane from Irish American Events Ltd. commented, 'After cancelling the 2020 fixture in June of last year due to Covid, all our stakeholders were determent to re-schedule the marquee fixture for the earliest possible window. Now, thanks to Notre Dame giving up a home game to Dublin, the game is a reality with the Fighting Irish taking on the Naval Academy for the third time on Irish Soil in 2023, 1996 and 2012 previously. This game, along with the 2022 Northwestern vs Nebraska game, will deliver a badly needed boost to our hospitality, tourism and aviation industries with the majority of the US travelers spending a minimum of seven nights throughout the island of Ireland.'
"Paul Keeley, Director of Regional Development, Fáilte Ireland, said, 'This announcement will provide a welcome boost for the tourism and hospitality sector especially in Dublin which has been hit hard by the pandemic. We will be thrilled to welcome the teams and their supporters to our capital city when they visit in 2023. These games are of critical importance to our economy, not just in Dublin but regionally too as fans will travel and visit other parts of Ireland. The millions of fans watching the game in the US will also provide Ireland with a valuable opportunity to showcase our ability to host large-scale international sporting tournaments while also reaching out to viewers - and potential visitors - in one of our key markets.'
"Jack Swarbrick, Director of Athletics, Notre Dame: 'We're thrilled to be able to provide another opportunity for our team and fans to experience the culture and hospitality of Ireland,' said Swarbrick. 'This trip overseas continues to strengthen our academic and athletic presence around the globe. Bringing a Notre Dame Football home game atmosphere to Ireland has been a goal of ours and we couldn't be more excited to partner with the Naval Academy to make it happen.'
"Chet Gladchuck, Director of Athletics, Navy, commented, 'We are very pleased to be returning to Aviva Stadium in Dublin for the 96th playing of the Navy-Notre Dame game,' said Chet Gladchuk, Director of Athletics at the U.S. Naval Academy. 'In 2012, it was one of the greatest airlifts in all of sports with more than 35,000 people coming from the United States to witness the beauty of Ireland and the pageantry that is a Navy-Notre Dame football weekend. We expect just as many people to return in 2023. The Navy fan-based support and enthusiasm for this game in Ireland is already overwhelming and with the ongoing support of the Prime Minister and the Irish government, it will again be an extraordinary experience. We look forward to our visit and a competitive contest against Notre Dame in a country that knows no bounds for hospitality.'
"Shane Clarke, Tourism Ireland's Director of Corporate Services, said, 'Today's announcement that Notre Dame and Navy will play in the second game of the Aer Lingus College Football Classic in Dublin, in August 2023, is really good news. With about 40,000 people expected to travel here for the game, it will deliver a very welcome boost for tourism from the United States. Tourism Ireland will work closely with Anthony Travel, the official travel company for both colleges, and other travel partners, to maximise the tourism benefits of the game. Sports-related tourism has emerged as a very significant element of the global travel business and the Notre Dame v Navy game will be another wonderful opportunity to showcase Dublin and Ireland, and more generally the many attractions that the island of Ireland offers as a holiday destination. Our message to both teams and their fans is that we cannot wait to roll out the 'green carpet' and welcome them to Dublin and Ireland.'
"Ticketing / Hospitality & Travel Packages
"Travel and Hospitality packages will go on sale for the 2023 game on Tuesday 23rd November 2021 through the official corporate hospitality game partner Corporate.ie and the official travel partner On Location in partnership with Abbey Group Ireland. Corporate group ticketing opportunities will also be launched before the end of the year. General ticketing information to be released in due course, with a pre-sale sign-up option available on the official game website. Travel and Hospitality packages for the 2022 game are currently on sale. Information on all packages can be found on CollegeFootballIreland.com.
"The Aer Lingus College Football Series will be bringing the usual college football fanfare with it, so attendees can expect lots of fun events including marching bands, cheerleaders and tailgating parties. For exclusive information see CollegeFootballIreland.com and follow College Football Ireland on Twitter @CFBIreland, Facebook
@CollegeFootballIreland and Instagram @CFBIreland with the official game hashtag: #MuchMoreThanAGame".
Aer Lingus In Talks With Government Over More State Loans
As reported by The Irish Examiner, Aer Lingus is in talks with the government over potentially tapping more state loans to boost its liquidity.
Aer Lingus chief executive Lynne Embleton reportedly said that Aer Lingus is "in dialogue" with the state-backed Ireland Strategic Investment Fund (ISIF) and is reviewing its liquidity levels with owner International Airlines Group (IAG).
Earlier this year, Aer Lingus reportedly borrowed €150 million from ISIF and reportedly said that it would be "appropriate" to borrow more.
Embleton reportedly said that more money from ISIF is available if needed, and reportedly did not clarify whether tapping ISIF would be a preferred option for Aer Lingus rather than boosting its liquidity directly from owner IAG's coffers.
Aer Lingus reportedly narrowed its losses in the third quarter, but still reportedly lost €80 million during the period. In the year to date, the airline has reportedly racked up losses of over €270 million.
However, Aer Lingus is reportedly eyeing some level of recovery. Embleton reportedly said that the airline is targeting a return to 90% of pre-COVID-19 flying capacity levels by the summer of 2022.
Aer Lingus reportedly hopes to be flying 60% of pre-COVID-19 flight numbers by Christmas and 80% by next Easter.
Embleton reportedly said that Aer Lingus has begun to see "pockets" of strong bookings of late, buoyed by the US announcing plans to reopen its borders to fully vaccinated European visitors on Monday November 8.
Shares in IAG reportedly rose healthily despite the airline group reportedly posting a €452 million operating loss for the third quarter and losses of almost €2.5 billion for the first nine months of the year.
However, the third-quarter result was reportedly better than the €567 million that analysts had reportedly expected and the nine-month showing was reportedly down from a corresponding loss of almost €6 billion.
The group, which also owns British Airways and Spanish airlines Iberia and Vueling, reportedly said that it expects to post a loss of €3 billion for this year as a whole.
IAG chief executive Luis Gallego reportedly said that he is "very optimistic" about the full reopening of transatlantic routes, and reportedly added that if it is able to operate 90% of capacity by the summer of 2022, IAG will return to profitability.
Gallego reportedly said, "In the short term, we are focused on getting ready to operate as much capacity as we can and ensuring IAG is set up to return to profitability in 2022."
IAG is reportedly more reliant on usually lucrative North America flights than most European carriers.
Davy reportedly said that IAG will need "substantial" cash generation to reduce its debt, which has reportedly ballooned from €7.5billion to €12.3 billion since the end of 2019.
Davy analyst Stephen Furlong reportedly said, "For IAG it's all about the full opening of the transatlantic travel corridor from Monday."
Furlong reportedly said, "IAG expects to have its full pre-COVID level operating there by next summer. This will be needed as although it now has record pro-forma liquidity of €12.1 billion, the balance sheet is highly leveraged."
Furlong reportedly said, "However, it has plentiful liquidity to bridge it back to cash-generation - it was targeting €2.1 billion free cash flow per annum pre-COVID and so it has grounds to think it can deliver organically."
Aer Lingus Has "Ambitious" Transatlantic Service Plans
As reported by The Irish Independent, Aer Lingus will operate what Embleton has admitted is an "ambitious" schedule of transatlantic services in the summer of 2022 that will bring the airline close to 2019 activity levels on the network as it tries to claw its way back to profitability after posting an €80 million loss in the third quarter of this year, bringing its total losses this year to €271 million.
Embleton Believes Aer Lingus Can Doubles its Share Of The Transatlantic Market
As also reported by The Irish Independent, Embleton believes that Aer Lingus can double its share of the transatlantic market in coming years as the COVID-19 pandemic fades.
Before the pandemic, Aer Lingus reportedly held approximately 3% of the multi-billion euro market between Europe and North America. Embleton's predecessor, Sean Doyle, who is now CEO of British Airways, reportedly predicted in 2019 that Aer Lingus could capture up to 6% of the market.
Embleton reportedly said, "We will grow our market share…by a few percentage points at least. Aer Lingus is really well placed to do really well in the North Atlantic market. We've got a customer proposition out there that allows us to have great fares and a good product."
Monday November 8 marked the easing of travel restrictions to the United States, and Aer Lingus flights to the United States and Canada were reportedly sold out, with the airline reportedly carrying approximately 1,100 people to the US and an additional few hundred to Toronto.
Before the pandemic, Aer Lingus had reportedly rapidly expanded its route network to the US, reportedly adding or relaunching destinations such as Seattle, Los Angeles and Minneapolis-St Paul.
For the summer of 2022, Aer Lingus reportedly expects to be operating 90% of its pre-pandemic capacity on all transatlantic services combined, reportedly including 90% of 2019 capacity out of Dublin.
Embleton reportedly said, "If we can get our costs competitive, and as we look at the customers and build the brand, that should give us the platform to be able to really grow our long-haul business and get that market share number."
As mentioned above, Aer Lingus has reportedly racked up losses of €271 million so far this year as the pandemic continues to wreak chaos on airlines.
Aer Lingus and trade union Fórsa were reportedly due to continue negotiations on Tuesday November 9 at the Workplace Relations Commission as the two sides reportedly attempt to thrash out an agreement with ground staff and cabin crew over changes to work practices.
Embleton reportedly said regarding how long the talks might last, "There's no hard stop. We hope the unions are willing to work with us to get the kind of competitive cost base that does enable Aer Lingus to be successful. If that takes a little longer in the WRC, then we can give it a little longer."
Aer Lingus Weighing Relaunch Of Its Service From Dublin To Miami
As reported by The Irish Times, Aer Lingus is weighing the relaunch of its Dublin-Miami service after over 1,000 people flew with the airline to the United States on Monday November 8, according to Embleton.
Embleton reportedly said that four flights, two to New York JFK with one each to Boston and Chicago, carried over 1,000 passengers from Dublin, and reportedly added that Aer Lingus hopes to add Dublin-Miami to 13 transatlantic routes that the carrier recently announced that it would resume in the summer of 2022.
The service was reportedly one of three, along with Dublin to Minneapolis and Hartford, Connecticut, that was not among the routes that Aer Lingus said last month it would restore or launch.
Embleton reportedly indicated that Aer Lingus could confirm plans to resume Dublin-Miami from next summer early next year, and reportedly believes that business travel, which is reportedly normally approximately 20% of traffic, may be recovering more quickly than predicted during the lockdown.
Embleton reportedly acknowledged that some passenger are "treating themselves" in Aer Lingus's business-class cabins, but reportedly maintained there are signs that people are flying to do deals.
Embleton reportedly said, "What I believe is that face-to-face business is infinitely more productive than telephone calls or video conferencing. I'm optimistic that the vast, vast majority of business travel will resume."
The US reportedly remains a key market for Aer Lingus, the pre-COVID-19 profitability and growth of which reportedly came mainly from its transatlantic business.
Aer Lingus is reportedly now flying approximately 50% of its pre-pandemic passenger capacity, and reportedly hopes to increase that to 60% by Christmas and 80% into next summer.
Embleton reportedly said that Aer Lingus is focussing on restoring pay to workers including ground staff, cabin crew and pilots, as it continues to boost capacity.
However, Embleton reportedly cautioned that Aer Lingus still faces financial challenges. The company, part of IAG, reportedly lost €80 million in the third quarter.
Aer Lingus reportedly already owes state agency the Ireland Strategic Investment Fund (ISIF) €150 million and reportedly may borrow further cash from that organisation or some other source.
Embleton reportedly said, "We're talking to ISIF, we're talking to the parent and outside sources."
Embleton reprotedly argues that Aer Lingus's losses combined with the profits that it would have earned if COVID-19 restrictions had not grounded travel amount to a "€1 billion swing".
Embleton has reportedly criticised the slow pace at which the government lifted travel restrictions this year, waiting almost three weeks after the rest of the EU to adopt the EU Digital COVID certificate system on July 19.
Embleton reportedly maintains that this cost Aer Lingus most of a second summer, the period of the year when it reportedly earns most of its profits.
However, Embleton reportedly acknowledged on Monday November 8 that the €90 million pledged in Budget 2022 by the government to airports next year, allowing them cut charges levied on airlines, prompted Aer Lingus to plan an ambitious summer schedule.
Embleton reportedly said that the pledge and the decision to extend the employment wage subsidy scheme for aviation workers indicated a change in the government's view of air travel from earlier this year.
Aer Lingus Owner To Buy 220,000 Tonnes Of Green Fuel From Velocys
As also reported by The Irish Times, Aer Lingus owner International Airlines Group (IAG) will buy 220,000 tonnes of green fuel from US manufacturer Velocys as part of a €350 million bid to cut carbon emissions.
IAG reportedly said on Wednesday November 10 that it has signed a memo of understanding with Velocys to buy 220,000 tonnes of sustainable aviation fuel (SAF), which the US company reportedly plans to produce at a plant in Mississippi from 2026.
IAG reportedly said its airlines, including Aer Lingus, British Airways and Iberia, will use the fuel, which Velocys will reportedly make from waste vegetation.
IAG reportedly intends to cut yearly greenhouse gas emissions by two million tonnes by 2030 through buying a total of one million tonnes of sustainable fuel annually.
The fuel is reportedly blended with kerosene normally used to power jet engines to help cut emissions.
IAG chief executive Luis Gallego reportedly said that the group will invest $400 million (€350 million) in developing sustainable fuel, and reportedly argued that clear policy support is needed to lure investment into building the plants needed to supply the fuel to airlines.
Gallego reportedly pointed out that US policy supports Velocys's plant, and reportedly said, "We would encourage the UK and the EU to follow suit in supporting the development and deployment of green technologies including carbon capture."
As part of its effort to combat climate change, the EU reportedly plans to begin taxing aviation fuel, which has reportedly escaped many levies up to now.
IAG is reportedly among a number of airlines that have rolled out a slew of sustainable fuel initiatives as COP26 takes place, reportedly aiming to prove that they are serious about the fight against global warming.
SAF, which is reportedly a substitute for the fossil-based kerosene powering today's jet turbines, is reportedly derived from a variety of ingredients, from waste oils and fats to sugar crops and some trees and grasses. British Airways reportedly operated a "carbon neutral" flight to Glasgow, while EasyJet will reportedly use a SAF blend on 42 flights out of London Gatwick airport. United Airlines Holdings reportedly committed to buying 1.5 billion gallons of SAF made from forest and crop waste.
The sudden embrace of kerosene alternatives reportedly makes sense for an airline industry desperate to avoid another shock after the decimation caused by the COVID-19 pandemic. If scaled quickly, SAF could reportedly help airlines fend off calls for emissions-related restrictions on flying, and clear the way for a return to growth.
Some industry participants are reportedly concerned that the publicity is outpacing palpable progress.
Gene Gebolys, chief executive officer of World Energy, one of two companies supplying commercial quantities of SAF in the US, reportedly said, "It feels a little frothy right now. It can't be just a press release battle. There's got to be authenticity here."
Meanwhile, figures from aviation information business Cirium reportedly show that airlines have used 40% less fuel so far this year than in 2019, which was the year before COVID-19 hit travel.
The company reportedly says that flights tracked for the year to date are 29% down on the same period in 2019.
Fuel burn reportedly increased as domestic and international flights began taking off again this year, but reportedly not as much as expected compared to 2019.
Cirium reportedly says, "Airlines have been flying their aircraft far fewer hours and prioritising the most efficient."
© 2021 Hospitality Ireland – your source for the latest industry news. Article by Dave Simpson. Click subscribe to sign up for the Hospitality Ireland print edition.