Ryanair Halves 2020 Growth Plans On Boeing MAX Delays
Published on Jul 17 2019 11:41 AM in General Industry tagged: Trending Posts / Ryanair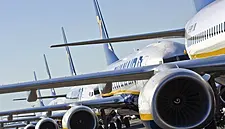 Ryanair has halved its growth plans for next year due to delays in deliveries of Boeing's grounded 737 MAX jet.
Europe's largest budget airline said it would start talks with airports and unions about downsizing or closing some operations from November 2019 to adjust for the slower growth.
Ryanair is one of Boeing's biggest customers and was due to have 58 737 MAX planes in time for its 2020 summer season. On Tuesday July 16, it said it now expects to have received 30 by then.
The aircraft was grounded in March after crashes in Ethiopia and Indonesia that killed a total of 346 people, and Boeing is working on a software fix that people familiar with the matter have said it hopes to present to regulators in September.
Ryanair CEO Michael O'Leary said it was hard to predict what would happen, but the airline was assuming the MAX might not return to service until as late as December, pushing its first deliveries of the jet back to January or February.
As Ryanair can only process six to eight new planes per month and does not take deliveries during its peak June to August months, the company is making plans on the basis of having 30 MAX planes available for the summer, O'Leary said in a statement.
"This number could rise or fall further, depending on when the B737 MAX actually returns to flight services," he said.
As a result, Ryanair expects to fly 157 million passengers in the year to March 2021, cutting its growth plans from 10 million additional passengers to five million, he said.
"While it is disappointing that we have delays and disappointing that the growth for next year will be slower than ... we had originally planned, we remain confident in the aircraft. We still think it is a great product," O'Leary told investors in a conference call.
"As soon as we can reasonably organise these deliveries with Boeing, we would intend to take all of the 135 firm aircraft we have ordered over the next five years," he said. He did not mention the additional 75 options Ryanair has for MAX planes.
No Plans To Market New 737 MAX Planes Differently
O'Leary said Ryanair had no plans to market the new 737 MAX planes any differently from its current 737 fleet, saying he expected the planes would be "warmly welcomed" by customers.
He said he knew nothing about media reports that a MAX plane due for delivery to Ryanair had been repainted to replace "737 MAX" with "737-8200", a technical name Boeing has used for a version of the MAX designed specifically for Ryanair.
"We don't know where the pictures came from, nothing to do with us," O'Leary said. Boeing has denied it has any plans to rebrand the MAX.
News by Reuters, edited by Hospitality Ireland. Click subscribe to sign up for the Hospitality Ireland print edition.