Dublin To Get 3000 New Hotel Rooms By 2019
Published on May 29 2017 3:46 PM in Hotel tagged: Featured Post / Savills Hotels / Tom Barrett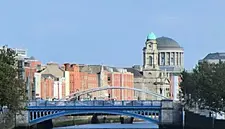 Following an examination of hotels currently in the planning stages or under construction in Dublin, Savills Hotels and Leisure division has revealed that the number of hotel rooms in the capital will rise by over 3,000 before the end of 2019.
Most of these developments are planned for or are currently taking place in the general Dublin 1 and 2 areas, with a high number also happening in Dublin 8 and in close proximity to Dublin airport.
As noted by businessworld.ie, it is estimated that 55% of new bedrooms will come from new hotels in 2018 with the rest coming from extensions to existing hotels. Based on their analysis, Savills expects that the number of new rooms to come from new hotels will rise to 90% by 2019.
Venues already under construction in the capital include Aloft in Dublin 8, the Clayton Hotel Charlemont St., the Maldron Hotel Kevin St., Marlin Bow Lane, the Boutique Hotel Ranelagh and Pinebrook House in Dublin 2, while established hotels being extended include The Dylan, the Trinity City Hotel, the Merrion, the Hilton Garden Inn and Castleknock Hotel & Country Club.
Director of Savills Hotels and Leisure Tom Barrett stated that "Most Dublin hotels trade in both the leisure and corporate markets and hotel development is also targeted at both markets. The 2018/19 pipeline will bring new supply to the Aparthotel and Budget sectors, which are currently under-represented in Dublin."