Johnny Ronan Appeals Planning Rejection For 'Dublin's Tallest Building'
Published on Jul 28 2017 12:10 PM in Hotel tagged: Featured Post / Dublin City Council / An Bord Pleanala / Johnny Ronan / Ronan Group Real Estate / Tanat Ltd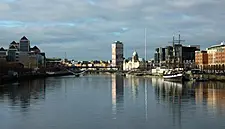 Following Dublin City Council's denial of planning permission for Johnny Ronan's proposed 22-storey tower adjacent to Dublin's Tara Street, the developer has appealed to An Bord Pleanála to reconsider the decision by holding an oral hearing on the matter.
The Irish Independent reports that the design team at Ronan Group Real Estate were "shocked and disappointed" by the council's dismissal of the plans, despite their putting together 30 different proposals in an attempt to address the concerns expressed by the council.
Responding to the council's assertion that the tower would adversely impact surrounding views and the historic character of the area, the appeal put forth by Ronan's Tanat Ltd firm claims, "The slenderness of the tower element and the lower level podium fit into the surrounding streetscape without significantly altering the character of the city."
Tanat also said that the building would offer "a number of beneficial outcomes to the city in terms of economic activity, tourism, significant improvements to the public realm, regeneration of a key city centre site adjacent to public transport nodes and the provision of a unique landmark to the city skyline."